| | |
| --- | --- |
| | ing your way to Wichita. We're eager to show you - and the world - a history of aviation display we've been working on for a decade. It's finally complete. |
The June 3 new terminal opening at Eisenhower National Airport included the public's first viewing of our display. The full-access, pre-security mezzanine transports you to monumental-scale, interior-lit structures with pops of color more typically seen on an aircraft factory floor. Aviation insiders will recognize our turquoise and primer green as the colors of protective coverings used to transport fuselages across the country and the green of unfinished aircraft.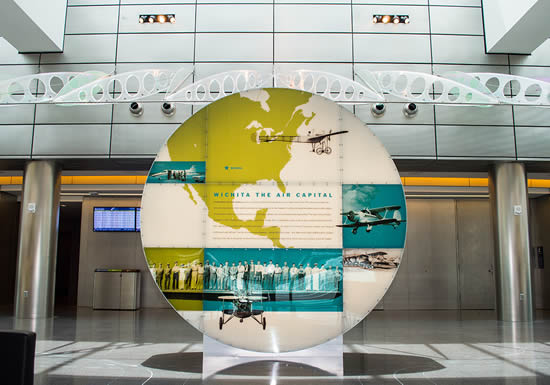 Wichita produces more airplanes - almost 300,000 to date - and offers more highly skilled aviation workers than any other city on the planet. Aviation forms both Wichita's aviation heritage and its future. Photo: Wichita Eisenhower National Airport.
A 10-foot center circular panel explains why Wichita became the Air Capital. You could probably guess a few. The central location. Lots of clear sunny days to fly. Flat open spaces enabling a plane to land most anywhere. Resilient farmer-mechanics who could fix and build anything. An infusion of oil money to invest in an emerging industry. A series of six wing-shaped pods encapsulates individual stories. They range from the early birds and barnstormers to WWII and the jet set up to aviation today. Two videos bookend the displays. One focuses on our aviation heritage with newly discovered historic film clips. The other provides a platform for area aircraft manufacturers to showcase their latest and greatest products.
Making Sure Memories Align
We created an aviation advisory committee with representatives from the aviation industry and aviation historians who can tell you every detail of every aircraft ever built. Or at least it seems that way. Wichita has a treasure trove of guys who know their stuff. We created an online forum that let committee members view all panels, not just their own. Our motto: full transparency. If anyone was going to disagree about a point or fact, we wanted to discuss it collaboratively. It worked. We made a few tweaks, and all was approved. Then the recession hit.
History Keeps Changing
The terminal was put on hold in 2009. While the project sat grounded, the world moved on. Lots happened in the following six years. New aircraft came to market. New CEOs took charge. New organizations came into being. Companies changed names. Boeing left Wichita (taking a chunk of our heart). Spirit AeroSystems took the lead as the state's largest manufacturer. Even the airport changed its name from Wichita Mid-Continent to Wichita Dwight D. Eisenhower National. When the project was reactivated, we followed up with key individuals from our advisory committee and began the change-review-approval process again.
Public Art Worthy of the Future
We not only wanted to acknowledge the past but to celebrate the future of aviation in Wichita. We researched, vetted and collaborated with public artist Ed Carpenter to communicate a vision of flight. Ed's piece, titled Ascent/Decent, arches over the mezzanine and suggests the possibilities of flight in a football-field-sized lightwork using diverse material of resin, cables and dichroic glass. It infuses the space with playful light reflections and reminds viewers of the innovation that lies ahead for Wichita.
With the opening of Eisenhower National, Wichita gains a gleaming, aviation-inspired front door. Please consider this your invitation to visit.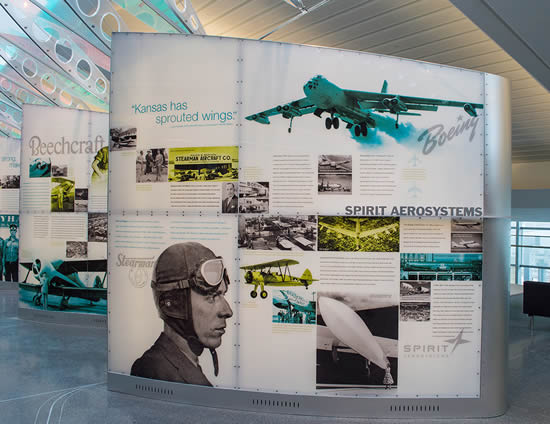 Like much of Wichita's aviation industry, Spirit AeroSystems traces its origins to the Laird Swallow and Travel Air manufacturing operations of the 1920s. Lloyd Stearman played key roles at both plants before striking off on his own. In 1927, he founded the company now known as Spirit AeroSystems. Photo: Wichita Eisenhower National Airport.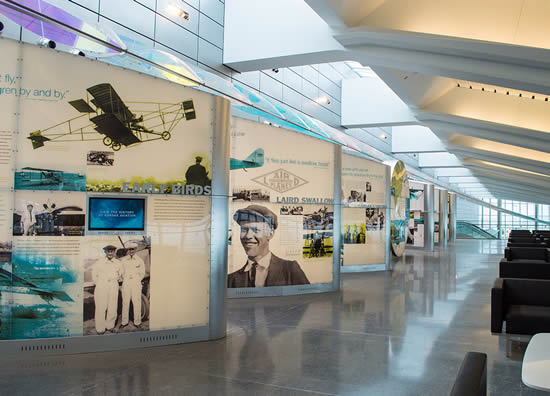 At the dawn of a new century, aviation roared into Wichita's wide-open sky and made itself home. On Sept. 2, 1911, Albin Longren became the first person to build and fly an airplane in Kansas. His pusher-type biplane lifted off from a hayfield with a four-gallon gas tank and "flight instruments" that consisted of a pocket watch and barometer. Longren made eight successful flights the first day. He went on to careers in barnstorming, aircraft design and manufacturing, earning the nickname "The Henry Ford of the Air." Photo: Wichita Eisenhower National Airport.
By 1928, Wichita was general aviation's manufacturing grand central, producing 120 airplanes a week – a quarter of all U.S. output. A Chamber of Commerce logo contest celebrated the city's 16 aircraft manufacturers, six aircraft engine factories, 11 airports and dozen flying schools. The contest's enduring legacy: Wichita permanently embraced its identity as the Air Capital of the World. It emblazoned the logo on everything from car grilles to flour sacks. Photo: Wichita Eisenhower National Airport.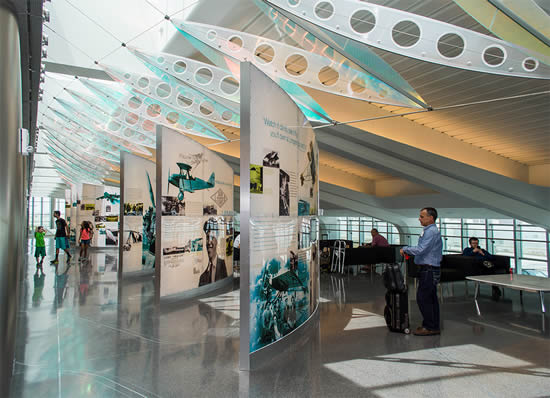 The light-infused space makes the display and art installation above it look different throughout the day. Photo: Wichita Eisenhower National Airport.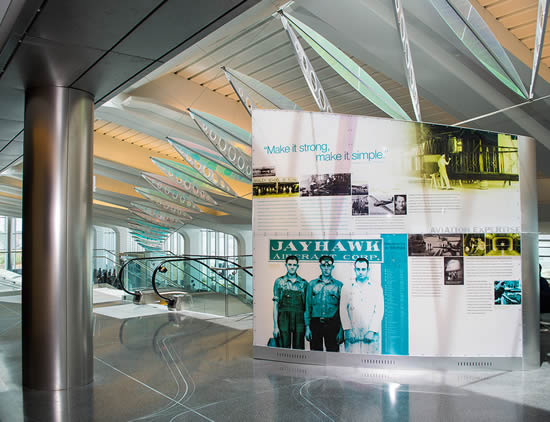 While most Americans were busy trying to put a car in every garage, Wichitans were intent on filling the skies with airplanes. The first plane built in Wichita rolled out of production in 1917, when Clyde Cessna assembled his Comet for his own use. Wichita's first commercial aircraft, the Swallow, came from the E.M. Laird Airplane Co. in 1920. Photo: Wichita Eisenhower National Airport.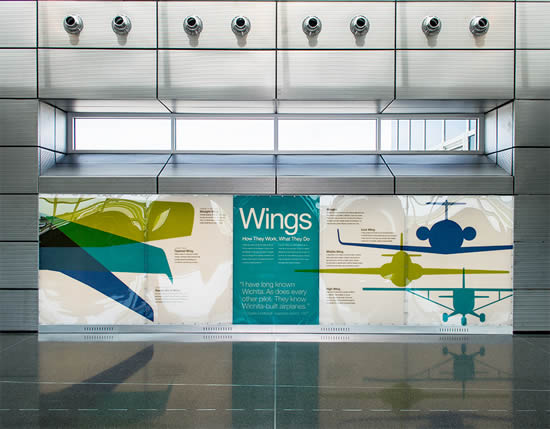 People can learn about aerodynamic principals as they head to and from their flights through understood-at-a-glance concourse supergraphics. Photo: Wichita Eisenhower National Airport.