Tapping the Power of Testimonials
---
Founder and Chairman Jerry King launched his VVIP and military aircraft support services company in 1992 with a strong vision. He wanted King Aerospace to give more than it takes, build value and make a positive difference in the lives of others.
Today, the company continues to set itself apart from the competition with its service-greater-than-self culture. It is so important to them that they even coined a term for it: King Kulture. Its team says it's all about serving people with love.
Servant leadership that's more than lip service
King Aerospace named us agency of record in 2018, the 25th anniversary of its founding. That provided a perfect hook for reintroducing the on-the-move company to its multiple stakeholders - the media, current and prospective customers, and potential team members. We met with leadership at the Dallas headquarters and front-line workers at its large facility in Ardmore, Okla. The company's servant-leadership-driven culture became our messaging focus.
Over two working days, we shot video and recorded interviews that could be used as voiceovers. These assets were deployed to create 16 testimonials for the website, enews and social media.
These script-free, heartfelt testimonials tell the company's story from a multitude of perspectives. They ring true, because they are. No one was coached or encouraged to make certain points. Their earnestness gives these spots incredible power.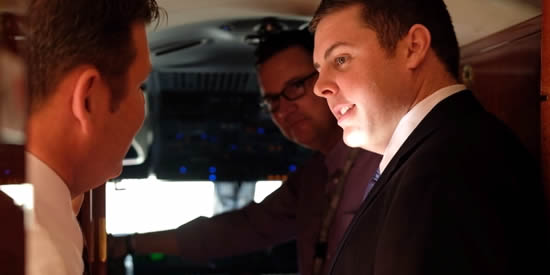 Jarid King, President.

A&P mechanics, avionics technicians, managers, painters and more shared what King Kulture means to them. Whether they work in the hangar or behind a desk, all take a no-excuses approach to taking care of customers and one another.
Multiple channels, a singular message
King Aerospace's 25th anniversary and culture-celebrating campaign leveraged a mix of organic and paid outreach: advertising, enewsletters, press releases, blogs and social media. The videos have been viewed more than 500 times on the website alone. Audiences are still watching, sharing and talking about King Kulture. The campaign continues to provide a platform for sharing King Aerospace's very genuine points of competitive advantage.
Learn more about King Aerospace.