| | |
| --- | --- |
| | orties Boogie Woogie and big-band sounds set the stage as hangar doors opened for Doc, the Boeing B-29 Superfortress being restored for flight. |
A tug pulled the still-grounded giant out into the Kansas sun as the music changed to the Air Force Song, "Off We Go Into the Wild Blue Yonder."
A VIP crowd of volunteers and friends of Doc applauded the rollout on March 23 on the campus of Spirit AeroSystems in Wichita, Kansas. The event took place exactly 70 years after Doc's initial delivery to the U.S. Army Air Forces.
Doc was among the 1,644 B-29s built in Kansas during World War II. The aircraft sat decommissioned in the Mojave Desert for 42 years until Tony Mazzolini and other aviation enthusiasts came to its rescue.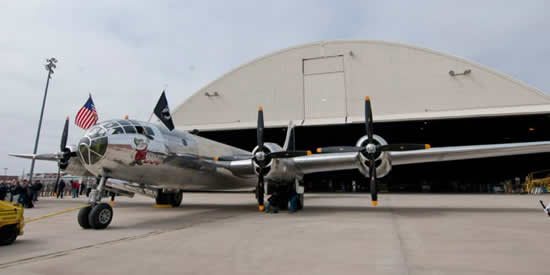 A eight-strong WWII B-29 squadron went by the names of Snow White and the Seven Dwarfs. Doc was decommissioned in 1956. The aircraft is on track to fly in 2015.
Fifteen years and 300,000 volunteer hours later, Doc was ceremonially re-delivered to representatives from McConnell AFB.
A visibly moved Master of Ceremonies and Doc's Friends Chairman Jeff Turner has advanced this B-29 for years, working to restore it to flying condition.
He asked the hundreds of supporters in attendance, "Doesn't the aircraft look great?" He then introduced Mazzolini, calling him Doc's savior, preserver and champion.

Turner joked that he was allowing Mazzolini only five minutes to tell his four-hour story. We've heard Mazzolini give presentations to the Wichita Aero Club and other organizations and can say from firsthand experience, this riveting tale could fill a book.

If you ever get a chance to hear him talk, take advantage of the opportunity.

Jeff Turner
A 40,000 ft Classroom

"The dream was always to restore Doc to flying condition and turn it into a flying museum to help keep the memories alive," Mazzolini said. "That's why we brought it back to Wichita where it was first built and delivered."

Turner is well acquainted with Doc's birthplace. He spent 40 years at Boeing, then Spirit AeroSystems, retiring as CEO in 2013. He introduced Larry Lawson as "CEO of a place very near to my heart."

Tony Mazzolini
Lawson, Spirit AeroSystem's current CEO, spoke about Doc and acknowledged in the audience both pilots who flew the plane and Rosie the Riveters who helped build it. He also referenced the innovations that made the B-29 such a game changer: first pressurized plane, first computerized plane, remote-controlled turrets. He said, "It's great to see this beautiful plane restored."
Flying up to 350 mph at 40,000 feet, the B-29 could fly faster and higher than most interceptor aircraft. It dropped the world's first atomic bombs.

The Enola Gay bombed Hiroshima on August 6. Bockscar hit Nagasaki on August 9. Japan surrendered on August 15, 1945. Lawson recognized the more than 50 million people who died throughout the course of WWII and how the fighting consumed the entire globe.

Many see the B-29 as a tool that helped bring the devastating war to an end.

Larry Lawson
More Than An Aircraft: An Idea
Presenter Col. James Dermer, vice commander of McConnell Air Force Base's 22nd Air Refueling Wing, said that more than technological breakthroughs, Doc represents an idea. That a nation's power lies in the ability to innovate. To come together in a spirit of cooperation and mutual respect. He said the restoration shows what can be accomplished through willpower and dedication.
Doc will be one of only two B-29s restored to flying condition when it takes flight later this year.

The Commemorative Air Force has the other, named Fifi. Doc's Friends estimates it will take an additional $7-9 million to finish the restoration, get the plane flying and secure permanent hangar space.

The group is dedicated to keeping Doc in Wichita. Which is good. During its peak wartime activity, Wichita was delivering an average of more than four B-29s a day.

By war's end, 60,000 workers had engaged in the effort to churn out essential aircraft: bombers, gliders, trainers, drones and more.

Flight engineer Robert Pearson was among the many veterans attending Doc's rollout. Pearson flew 32 B-29 wartime missions.
To learn more about how you can get involved with Doc's Friends and support its educational mission, visit www.b-29doc.com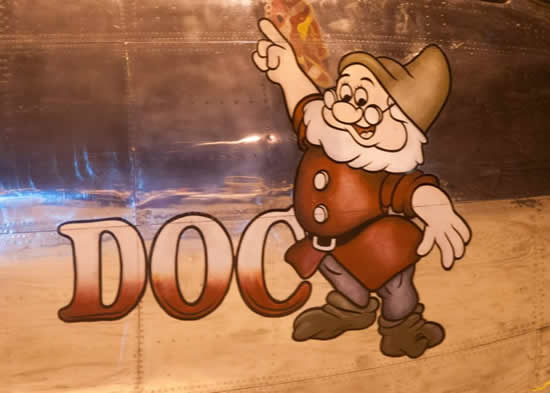 Doc's nose art