| | |
| --- | --- |
| | tís easy to be dazzled by hardware and technology. But the seventh annual Wichita Aero Club gala reminded me that people make aviation fly. Judging by all the standing ovations throughout the night, I was not alone. |
The evening honors diamonds. People who are not just brilliant - but resilient. Who cut through obstacles. And make a mark. Past honorees include the late Velma Wallace, Jeff Turner and Spirit AeroSystems, John OíLeary and Airbus Americas Engineering, Russ Meyer and Al Higdon.
As the head of the trophy selection committee, I have the privilege of bringing together a group of highly regarded industry colleagues to bestow this honor upon a person or organization with strong Wichita ties and exemplary achievements in aviation. Here in the Air Capital, you can only imagine the number of nominees worthy of this distinction. The gala serves as an opportunity to pay respect to those whoíve made an impact on both our community and aviation.
This year, the club saluted the Docís Friends Restoration Team. Since 2000, this group of volunteers donated upwards of 350,000 hours to restore Doc, a WWII-era Boeing B-29 Superfortress once part of a squadron called Snow White and the Seven Dwarfs. When it flies this spring, it will be one of only two airworthy B-29s. The U.S. Air Forceís Fifi is the other.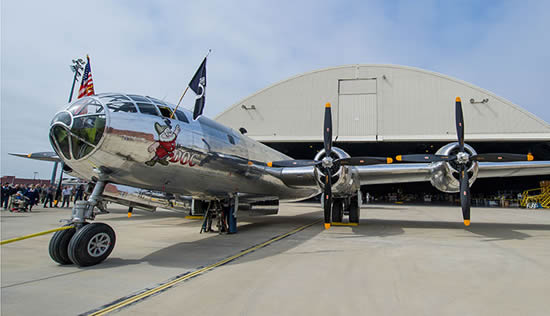 Doc was one of the 1,644 B29s manufactured in the Air Capital between the years 1943-1945. While built as a warbird, its new mission will be to educate and inspire. Perhaps someday you will be able to experience this soon-to-be flying museum. Itís pictured here at a rollout ceremony in March 2015. Concentrate and you can almost hear the Air Force song and boogie-woogie that was playing. Photo: Brett Schauf, Visual Media Group.
Humble Yet Herculean
This band of volunteers - including many retired workers from area aircraft manufacturers - started with a big challenge. The plane came to them disassembled, little more than a bunch of parts and pieces. Doc was discovered in 1987 by Tony Mazzolini in the Mojave Desert, part of a bombing target range. After years of negotiations and red tape, Doc was rescued from its ignominious (and scorching hot) home. In 2000, Doc shipped to the Wichita plant that originally built it. And people responded. None more than 91-year-old Connie Palacioz, who stands several inches shy of five feet tall. Sheís been a Doc volunteer for 16 years.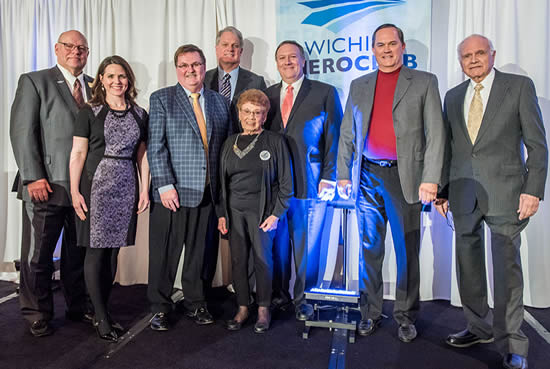 Pictured left to right: Dave Franson, Wichita Aero Club president; Ashley Bowen Cook, Wichita Aero Club board member and gala chair; Mike King, Kansas Secretary of Transportation; Jeff Peier, Wichita Aero Club chairman; Connie Palacioz, Doc volunteer and an original Rosie the Riveter; Mike Pompeo, Kansas Fourth District congressman; Jim Murphy, Doc volunteer and project director; and Tony Mazzolini, Docís most ardent champion. Photo: Jeff Hetler, Visual Media Group.
Seventy years ago Palacioz riveted this particular B-29. The nose, the only undamaged section after Docís years of being used as target practice, still contains Palaciozís original rivets. She put them in when she was 17 years old. Her brother, uncle and fiancť had enlisted, she said, and ďI wanted to do my part.Ē She did. And does. Like the hundreds of other Doc volunteers, Palacioz reminds us that we are part of something bigger. That sacrifice and dedication lead to great things.
History With a Mission
You can learn about Docís progress, upcoming flight and future educational efforts at www.b-29doc.com and about the Wichita Aero Clubís industry-elevating activities at www.wichitaaeroclub.org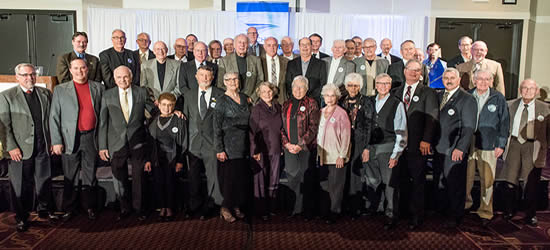 The Docís Friends Restoration Team rescued and restored a treasure. Their efforts honor the Greatest Generation while connecting future ones to aviationís rich heritage. Photo: Jeff Hetler, Visual Media Group.