NBAA Social Media Musts
---
As you make final preparations for the business aviation community's largest U.S. tradeshow, don't forget your social media strategy. The National Business Aviation Association's Business Aviation Convention & Exhibition (NBAA-BACE) starts Oct. 16.
Your flights and rooms are booked. Hopefully you broke in your walking shoes a month ago. But have you finalized your plan of attack for creating and distributing social content while you're boots on the ground? Here are a few social media tips you can activate last minute.
Do your research
You still have time to research the social media accounts, handles and popular hashtags of the prospective and current customers, partners and media reps you plan to visit at the convention. Keep #NBAA18, #NoPlaneNoGain, #BizAvWorks and other hashtags and accounts on your phone for easy reference.
I add all the information I need - schedules, speakers or booth numbers - to a note on my phone so I can just copy and paste it from there into a tweet or a LinkedIn post. Colleague Jordan Walker likes to build up her social community ahead of time. She researches then follows targeted accounts and people on Twitter before she ever heads to Orlando.
While you're researching NBAA accounts and contacts, take a look at your own social profiles. Audit your personal LinkedIn profile. Is it up-to-date with your current responsibilities? Does it read like your resumé, or are you activating it as a sales professional? Update your profile photo to your most recent headshot. Add a relevant cover photo. Apply these tips to Twitter, too, so you can interact with media professionals as well as new connections. We use professional headshots and a graphic representing our agency for our LinkedIn accounts. It's important to have a complete profile and recognizable photo while you're working the room.
Plan ahead
Think about your day, start to finish, on the show floor. What are you doing? Who are you talking to? Where is your phone? We know how busy you are, working the hall and exploring aircraft on static display. Sometimes, it's not feasible to post all of your NBAA social content while you're at NBAA. Our schedules are packed to the hour, so we schedule social ahead of time.
Using a social management system (SMS) such as Hootsuite, you can schedule NBAA-specific content to distribute while you're at the show. Draft thank-you posts to partners as well as posts sharing your primary company messages and thought-leadership content, such as whitepapers, case studies and one-sheets. Load them into your SMS and hit the road. We write blogs and guest columns almost weekly throughout the year, and repurpose our content during NBAA by scheduling articles most appropriate for show attendees.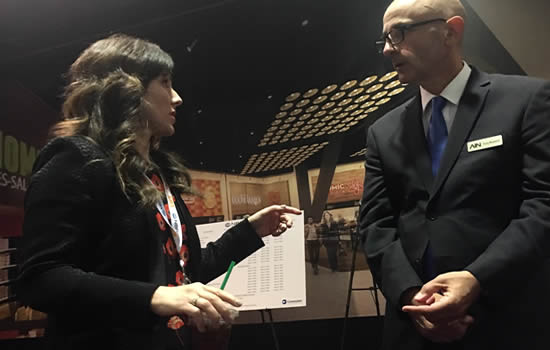 Ashley Bowen Cook with AIN's Tony Romano.
Add live content
Research done, profiles up-to-date and content scheduled, it's time to hit the conventional hall and static display. Your daily schedule will dictate what you do and who you see, so plan to create meaningful, engaging content opportunities around your agenda.
Consider implementing these ideas:
Post content showcasing the energy of the tradeshow on Facebook and Instagram. These two heavily visual social channels will require photos or videos to accompany text.

Facebook and Instagram Stories also offer a way to incorporate live video into your show communications. Quick interviews with team members or play-by-play of your agenda can be engaging to audiences who follow you online - and at the show.

Use Twitter to share highlights from keynotes or panel discussions you attend. Don't forget your hashtags.

Twitter is also the best place to talk to the media. Journalists and publications tweet nonstop during NBAA. Follow along and engage.

Wrap up lessons learned over lunch on LinkedIn in a longer post talking about your favorite presentation of the morning. Do it again at the end of the day.
Business aviation professionals and companies have an opportunity to participate in these platforms with great content, especially when all eyes are watching at NBAA. See you at the show.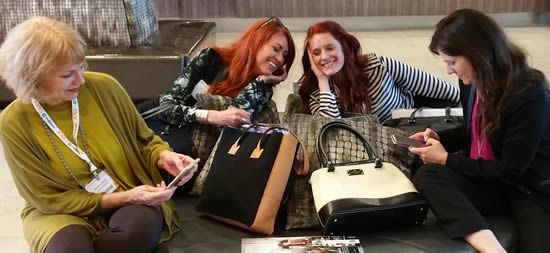 The Greteman Team: Deanna Harms, Sonia Greteman, Jordan Walker and Ashley Bowen Cook.

BlueSky Business Aviation News | 4th October 2018 | Issue #481