| | |
| --- | --- |
| | ever underestimate your power to influence. |
As the aviation industry struggles to encourage more people to consider the left seat as a professional power position, we'd be wise to consider the lessons learned by those who've built illustrious careers that soar well above the ground.
The December Wichita Aero Club "Great Pilots" panel, moderated by my father, aviation photographer Paul Bowen, provided a platform for storytelling - a sharing of passion, talent, networking and friendships. And it showed how one generation influences the next.
Veteran aviator Clay Lacy benefited from a grandmother who let Orville Sanders build an airport on her farm. His mom would take the young Clay to watch takeoffs and landings. He was flying at age 12. "Sanders was kind of a loose guy," said Lacy, "which was good for me. He'd let me fly anything." By age 19, Lacy snagged a job as copilot with United. He later sold jets for Bill Lear, then revolutionized air-to-air filming for the movie industry. Lacy quit logging flight hours when they exceeded 50,000. He's been flying for seven decades.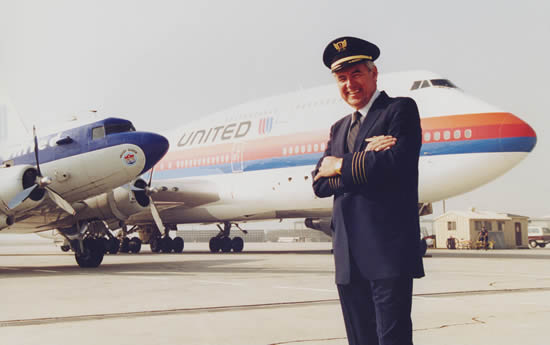 Clay Lacy
Legendary P-51 pilot Lee Lauderback, whose father was a Navy pilot, followed close behind.

"I started flying late - at the age of 14," deadpanned Lauderback, who started with gliders and soloed in a Cessna 150 on his 16th birthday. "I hocked everything I had to buy my first sailplane," he said.

He went on to become corporate pilot for Arnold Palmer and log more than 21,000 flight hours, with 9,000 of those in his beloved P-51 Mustang - which he also uses to provide upset training.

Lee Lauderback

Lee just retired off the USAF Heritage Flight program, hitting the mandatory retirement age of 65, which he helped institute years ago. "Let me tell you what I think of that now," he said.
Angela West, who gamely stood in for a flu-stricken Patty Wagstaff, said she became fascinated with aviation while in school. When she told her parents, who had never been around planes, "They were like, 'Yeah, right.'" Once West took her first ride in a Cessna, she knew her career would involve flying.

Somehow. Some way. Like her parents, her friends also didn't get the attraction. A friend asked, "Are you running drugs or what?" West went on to become a pilot and to manage corporate events for Kermit Weeks at his renowned Fantasy of Flight in Polk City, Florida.

Angela West

Angela serves as director of operations for Lee Lauderback's Stallion 51, the world's premier P-51 Mustang flight operation and Unusual Attitude Training. Her love of the Mustang rivals Lauderback's. The four-day Gathering of Mustangs she orchestrated in 2007 drew 200,000 people from around the world and continues to be talked about today.
Each took very different career paths. Recounting those would fill books.

Speaking of which, you can read Lacy's - Lucky Me - online (available here)

He's quick to say that it's not an autobiography: "Other people wrote the majority of it." But then he adds, "I like it."

The man who became Mr. Learjet in 1964 sure has the stories to tell.

Clay Lacy dedicates his book, Lucky Me, "to past, present, and future aviation pioneers and to all who possess an insatiable passion for flight. May your stories travel through time for the enjoyment of generations to come."
The Next Generation: Pay It Forward
Lauderback noted that aviation is a more expensive and complex field to enter than it used to be. His advice to young aviators: "Don't give up. Keep cracking the door open until some sunshine comes in."
He also acknowledged the influence Clay Lacy had on him. Lacy owns a purple P-51 Mustang, which he flew in the Reno Air Races.

When Lauderback was a kid, he purchased a P-51 model and painted it to match Lacy's aircraft. We all need role models. Including ones flying purple planes.

Lee Lauderback has an affinity for raptors. He's pictured here at a demonstration with his P-51D Mustang Crazy Horse.
I agree with my father, Paul Bowen, who moderated the panel and introduced its members as true ambassadors for aviation.

Paul cautioned the room full of aviation enthusiasts to just get up and leave when they needed to, saying, "Trust me, Clay won't run out of stories."
In this vintage photo, Lacy's pictured with Bill Lear and actor Danny Kaye.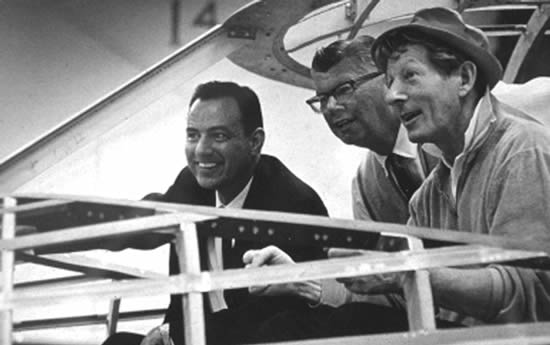 The pros on the "Great Pilots" panel at the Wichita Aero Club's December on-air summit each shared how their love of flight triggered at an early age.

Here's a photo of 9-year-old Clay Lacy, already smitten by aircraft.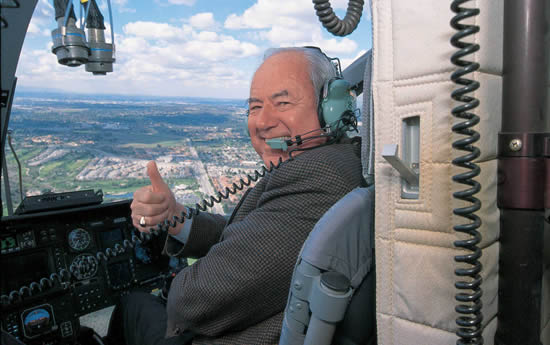 Clay Lacy estimates he's flown 300 or so different aircraft types. He said 30 years ago he picked up a copy of Jane's World Book of Planes and tallied up 285 planes he'd flown. "I was maybe a little crazy," said Lacy.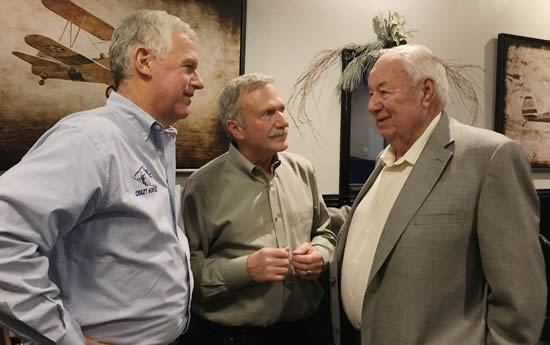 Lee Lauderback and Clay Lacy have both flown with Paul Bowen on aerial shoots and are longtime friends of Bowen. The Wichita Aero Club event brought Lauderback and Lacy together for the first time.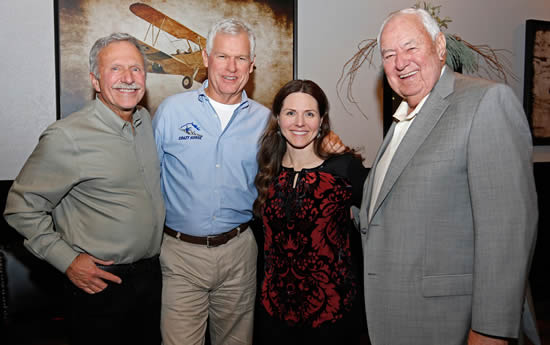 It's not often that you have the opportunity to spend an evening listening to aviation greats tell how they started in the industry, who influenced them and the mutual admiration they have for one another. I had that opportunity this week when Clay Lacy and Lee Lauderback made their way to Wichita for the Wichita Aero Club On-Air Summit. Lacy is known for his 50,000-plus flight hours in hundreds of different aircraft. He's the high-time turbine pilot ever. Lauderback has logged the most hours in a P-51 Mustang, which is currently about 9,000, making him the world's high-time P-51 pilot. I always enjoy my dad Paul Bowen's stories, too.
During this season of giving, consider how you can donate time, talent or treasure in making a difference for an aspiring aviator. Take the time to speak with students. Let them sit in the cockpit of your aircraft. Give money toward a scholarship. You could be inspiring the next Lee Lauderback, Clay Lacy or Angela West.