| | |
| --- | --- |
| | erial entrepreneur Kenny Dichter brought more than his fiery brand of entrepreneurial evangelism to the Wichita Aero Club's April meeting. |
He also presented a flesh-and-blood reminder that the best presentations maximize storytelling and connection. They also restrict visual aides to a critical few. And definitely do not include reading from a PowerPoint.
The Wheels Up CEO and founder spoke to a packed room that ranged from such believers as Textron Aviation CEO Scott Ernest sitting at the head table to skeptics who question Dichter's ability to deliver on his vision of 10,000 members by 2020. (Membership numbers around 3,000 to 4,000 now, he said.)

Of course, Wichita, the Air Capital, wants to believe. Wheels Up has taken possession of 58 King Air 350i aircraft to date, Dichter said, and intends to support the twin-turboprop brand in the coming years. "We'll keep the King running and relevant." Perhaps even more pleasing to Ernest's ears, Dichter said, "500 Kings can be in North America 10 years from now."

Wheels Up CEO Kenny Dichter.
Photo: Brett Schauf with Visual Media Group.
He spoke less about the 15 pre-owned Citation Excel/XLS light jets Wheels Up leases from Textron, but they must be a welcome complement to the fleet for those trips beyond the short-haul range of the King Air.
As you give presentations, here are some lessons we can all learn from Dichter.
Remember the power of sound bites. "Wheels Up is more Netflix than NetJets," Dichter said about his program, which doesn't actually operate their program aircraft, but rather dry leases them to Gama Aviation, the exclusive FAA Part 135 operator.
Connect emotionally. "I have the same feeling walking up to a plane today as I did 28 years ago starting out."
Tell stories. "I was basically the steward," he comically said, about his first flight from DC to LA on a Learjet 60 with sports agent David Falk.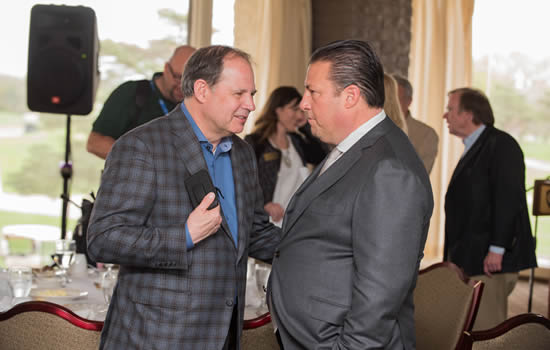 Textron Aviation CEO Scott Ernst with Wheels Up CEO Kenny Dichter. In 2013, Wheels Up placed the largest turboprop order in business aviation history with an order of 105 King Air 350i aircraft. To date, the company's taken possession of 58. Photo: Brett Schauf with Visual Media Group.
Make the complex simple. Dichter, who founded jet-card pioneer Marquis Jet in 2001 then sold it to NetJets-owner Berkshire Hathaway in 2010, boiled down the NetJets Marquis card by saying, "I started out with Richard Santulli offering a fractional, preloaded card that took away residual risk for people flying under 50 hours."
Get your audience to root for you. Dichter positioned himself as the underdog as he talked about "begging" Richard Santulli to do the deal and being "turned down seven or eight times."
Sprinkle in specifics, including names, to humanize your story. He said "Warren (Buffet)" encouraged Santulli to do the deal, which "generated $5 billion in 10 years."
Engender confidence. Dichter mentioned other successful ventures, including Marquis' continuation with thousands of members today.
Be direct. Dichter talked about Wheels Up's tiers of membership: Corporate, with a one-time $29,500 initiation fee and $14,500 annual dues starting year two; or Individual, with a $17,500 entrance fee and $8,500 dues after the first year.
Make a case for your place in the marketplace. "We're in the hospitality business," Dichter said. "Thanks, United, for doing us a favor." Dichter made the connection with United's ongoing PR woes to how poor airline passenger service creates a demand for private aviation solutions.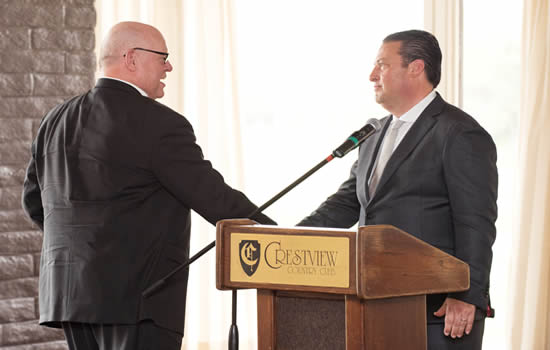 Wichita Aero Club President Dave Franson with Wheels Up CEO Kenny Dichter. Photo: Brett Schauf with Visual Media Group.
Illustrate your points. Ride-hailing companies such as Uber and Lyft haven't made a profit yet, but we all understand how they have changed the landscape, broadening the space. He foresees something similar in aviation.
A little audience pandering is okay. A few of Dichter's crowd-pleasing statements: "Wichita makes 'em; we take 'em." "There's no bigger cheerleader for this city than me or the Wheels Up team." "The first electric plane won't be made in San Francisco; it will be made in Wichita."
Communicate a positive vision. "I think we have a lot of runway."
Leave plenty of time for Q&A. Dichter took a question about who's been Wheels Up's best celebrity. He quickly said Serena Williams because of her gender, ethnicity and being such a champion. Then he related it to Wheels Up – that they now have more women who are the lead passenger or lead on the account.
Build relationships with reporters. Dichter called out reporters in the room by name and engaged with them. "Earmuffs, Molly (McMillin)," he said about a joke he made about Wheels Up's aircraft. He called them JILFs. I'll leave you wondering about that one.