Ashley Bowen Cook, vice president at Greteman Group, a marketing communications agency based in Wichita, the Air Capital.

Doing the Right Thing

---
| | |
| --- | --- |
| | his Wichita Aero Club gala had a hard act to follow. |
Last year the evening honored my dad, aviation photographer Paul Bowen. I say that somewhat facetiously, but it's true. Every year I feel the same. How can we possibly top the year before?
And yet, each year builds upon everything that's come before. The evening shimmers with vibrancy and passion for this unique industry. Aviation taps something within each of us. The need to push boundaries. To break free of the bonds of time and space. To transport ourselves to new places, new people, new things.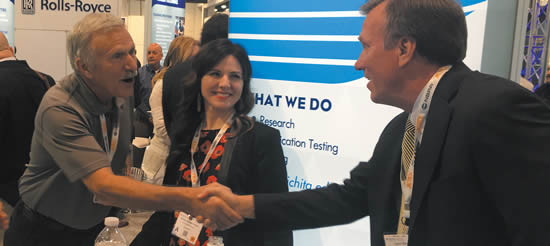 The trophy announcement was made at the National Business Aviation Association Convention in Las Vegas. Last year's honoree, Paul Bowen (left) shakes Lynn Nichols' hand after hearing the news. And, yes, that's me in the middle. Photo: Deanna Harms.
As head of the trophy selection committee and gala chair since the event's inception, I have the privilege of bringing together a group of highly regarded industry colleagues to bestow this honor upon a person or organization with strong Wichita ties and exemplary achievements in aviation. Here in the Air Capital, you can imagine the number of worthy nominees. Every year we face a tough choice.
A Shake-Things-Up Leader
This year's gala honored Lynn Nichols, CEO of Yingling Aviation, for his impact on both our community and aviation. Nichols transformed the once-struggling Yingling Aviation into a FBO jewel, leading parts distributor, customization shop and more. His many contributions in aviation include helping lead the effort to restore and find a home for the beloved Boeing B-29 Superfortress known as Doc.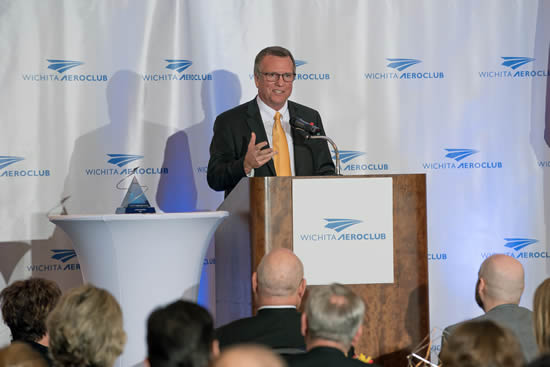 Yingling Aviation CEO Lynn Nichols, the Wichita Aero Club's 2018 trophy winner. Photo: Visual Media Group.
"It takes three of us to introduce Lynn," said retired Spirit AeroSystems CEO Jeff Turner. Turner peppered his introduction with personal anecdotes of their joint entrepreneurial and community-building efforts. He was followed by Intrust Bank CEO Charlie Chandler. As a licensed pilot for 45 years and a satisfied Yingling customer, Chandler shared appreciation for Lynn and Yingling's customer-first philosophy. Yingling President Lonnie Vaughan talked about meeting Lynn in high school and how the two came to join forces professionally.
When Nichols took the podium, he said he felt out of his element, but you couldn't tell. He spoke earnestly about his journey and ambitious, rapidly unfolding plans. Everyone who knows Nichols says he's a leader who makes things happen.
First Order of Business: Transform the Culture
Nichols purchased Yingling in 2000. An already not optimal general and business aviation climate grew even harsher following the post-9/11 downturn. "For us, jet fuel is perfume," Nichols said. "After 9/11, we smelled none."
But Nichols had a mission. He bought Yingling because he saw room for improvement. He'd once hangared his Cessna T210 there, but left due to less-than-optimal service.
His first action as owner was to change the corporate culture. In Nichols' view you, "Spoil customers in ways that make it difficult for them to go elsewhere." Nichols leads by doing. He bought a floor cleaner and set to work making a dingy Yingling shine. He solicited customer service feedback and delivered it directly to staff. His team got the message. Good enough was no longer good enough.

Nichols set about investing millions in renovations and adding services at Yingling's facility, located at Wichita Eisenhower National Airport. Those included spaces for Caravan OASIS interior completions and McCauley propeller overhaul and service, a larger paint shop, battery rooms for testing and charging, expanded shipping and receiving departments. A networked computer system enabled greater customization and tailoring of services to customer preferences.

Past trophy honorees include the late Velma Wallace (2011), Jeff Turner and Spirit AeroSystems (2012), John O'Leary and Airbus Americas Engineering (2013), Russ Meyer (2014), Al Higdon (2015), Doc's Friends Restoration Team (2016) and Paul Bowen (2017).
Seven Decades of Cessna Partnership
The company started life in 1946 as the first official Cessna dealer, taking possession of a Cessna 140 single-engine demonstrator from Cessna's game-changing CEO, Dwane Wallace. Buyers would come from all over the world to accept deliveries of their Cessna 120s and 140s at Yingling. Fast forward to today. Nichols has elevated Yingling to a full-service, 24/7 fixed-base operation that serves as the largest Cessna parts distributor and one of three top Cessna service centers. Second-to-none service means AOG orders received before 11:30 in the morning ship the same day. Its FAA and EASA-certified aircraft maintenance handles everything from scheduled annuals to quick-turn repairs.
Wichita Aero Club President Dave Franson says Nichols not only leads a company known for exemplary service and business practices, but he has done so during difficult times in general and business aviation. When the U.S. economy nosedived in the Great Recession of 2008, aviation in general and the Air Capital in particular were hit hard. And they were among the last to recover.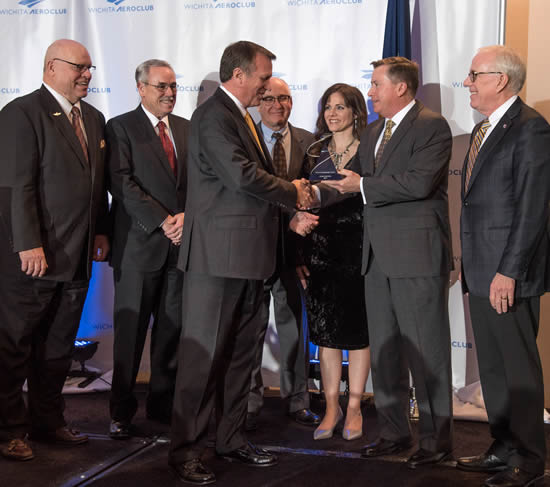 Pictured left to right: Dave Franson, Wichita Aero Club president; Jeff Turner, retired Spirit AeroSystem CEO and 2011 Wichita Aero Club trophy winner; Lynn Nichols, Yingling Aviation CEO; Lonnie Vaughan, Yingling Aviation president; Ashley Bowen Cook, Wichita Aero Club board of directors executive committee vice chair and gala chair; John O'Leary, Airbus Americas Engineering vice president/general manager and Wichita Aero Club chairman; and Charlie Chandler, Intrust Bank CEO. Photo: Visual Media Group.
"Lynn Nichols rescued a floundering enterprise and saved it from imminent closure," says Franson. "His exceptional energy, business acumen and proven principles turned things around. His leadership enabled Yingling to grow and realize new opportunities even during the economic downturn. He has transformed Yingling into an industry-leading FBO and a go-to destination for everything from AOG parts to interior modifications."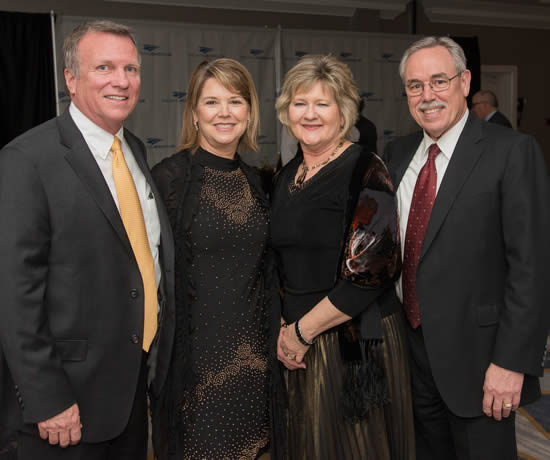 Lynn Nichols and Jeff Turner have now both been awarded the Wichita Aero Club trophy. These longtime friends also frequently work together to spur local investment that benefits aviation and the Air Capital. Pictured here: Lynn and Sherry Nichols and Rhonda and Jeff Turner. Photo: Visual Media Group.
A Friend to the Air Capital and Aviation
Nichols' long-time commitment to the community includes service as past chairman of the Wichita Chamber of Commerce and on the boards of a number of local businesses and nonprofits, including Doc's Friends. This now nationally known group restored Doc, a Wichita-built B-29, to flight condition and found it a permanent home, a 32,000-square-foot hangar and education center now being built. It will be next to Yingling's new 23,000-square-foot hangar.
BlueSky Business Aviation News | 25th January | Issue #448