Bullish On-Air Summit
---
The Wichita Aero Club's eagerly anticipated annual on-air summit, did not disappoint. This year, panelists included the leadership of five key aviation organizations: the Experimental Aircraft Association (EAA), National Business Aviation Association (NBAA), General Aviation Manufacturers Association (GAMA), Aircraft Owners and Pilots Association (AOPA) and Aircraft Electronics Association (AEA).
Moderator Molly McMillin, managing editor of Aviation Week's The Weekly of Business Aviation, kept the discussion moving. With this group, that wasn't hard.
Panelists started out talking about the challenges of the past 10 years. Jack Pelton, EAA CEO who was CEO of Cessna Aircraft at the time, hasn't forgotten the terrible downward spiral the Great Recession generated. "I have recurring nightmares," he said.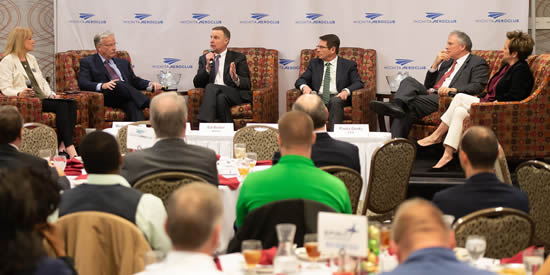 The December 6 on-air summit included (left to right): Moderator Molly McMillin; Jack Pelton, EAA president and CEO; Ed Bolen, NBAA president and CEO; Tom Haines, AOPA senior vice president, media and outreach; Pete Bunce, GAMA president and CEO; and Paula Derks, AEA president | Photo courtesy of Visual Media Group.
NBAA CEO Ed Bolen has flashbacks when he thinks back to the "tough" 2008 convention - a reflection of the tanking stock market and aviation's public-image issues. He credited champions such as Arnold Palmer and Warren Buffet who partnered with NBAA to help change perceptions. Their compelling personal testimonies positioned aircraft as essential business tools not fat-cat toys.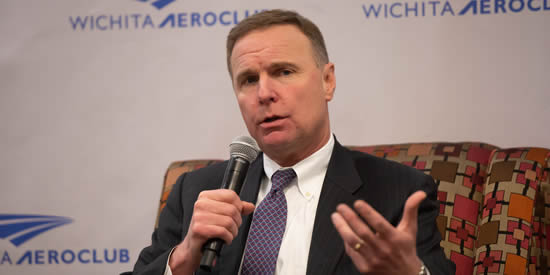 Ed Bolen, NBAA president and CEO | Photo courtesy of Visual Media Group.
Finishing Strong
"My sense is that 2018 will finish as a strong year," said Bolen. "There's enthusiasm that 2019 will be better."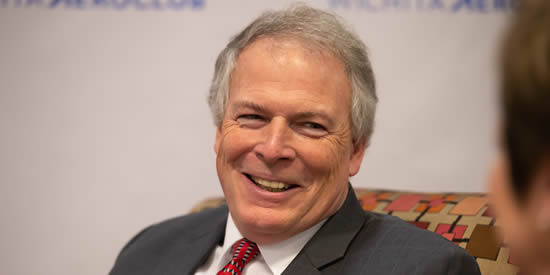 Pete Bunce, GAMA president and CEO | Photo courtesy of Visual Media Group.
GAMA president and CEO Pete Bunce acknowledged that end-of-year tax breaks are like steroids for sales. Bonus depreciation is largely driving the boost happening now. Prospective aircraft owners can benefit from the purchase of almost any purchase of private aircraft, whether new or preowned, and also fractional shares.
"We had an over capacity when we went into the Great Recession," said Bunce. "It took us a long time to burn through that inventory."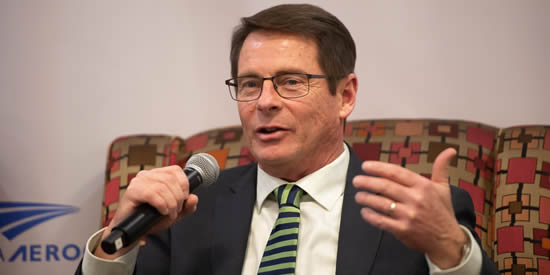 Tom Haines, AOPA senior vice president, media and outreach | Photo courtesy of Visual Media Group.
Tom Haines, AOPA senior vice president of media and outreach, said the lighter end of the market, including piston aircraft, "has come back nicely." Shops responsible for paint and interiors are very backed up, which wasn't the case for several years, he said.
The ADS-B equipment mandate is driving avionics sales, as well as spurring other opportunities. The December 31, 2019 deadline for compliance means people are "counting the days now," said AEA President Paula Derks.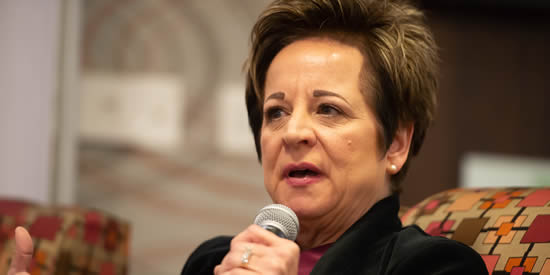 Paula Derks, AEA president | Photo courtesy of Visual Media Group.
Working Together
Ed Bolen thanked the roomful of aviation enthusiasts for their role in successfully shutting down the efforts to privatize the nation's air traffic control (ATC). "We've seen democracy at work," said Bolen of the coordinated, multiyear, grassroots campaign.
Balking at Bureaucracy
The pace of innovation and change underway demands an agility that panelists suggested the U.S. Federal Aviation Administration (FAA) may be lacking.
Due to FAA certification challenges for new aircraft, for instance, "Dubai will probably be the first place to see flying cars," said Bunce. The lack of a more streamlined process affects companies such as Wichita's Textron Aviation as it seeks to roll out new products. "Driving cultural change is the most difficult thing in the world," he said.
FAA Part 23 airworthiness standards have not smoothed concerns about autonomous vehicles. Bunce stressed the need to accomplish certification reforms correctly in order to take advantage of industry capabilities. If the FAA can't deliver on ADS-B (which most operators have not complied with), then how will they ever be able to adapt to the rapid changes coming, he asked.
"The United States may not lead in this," said Bunce.
Workforce Readiness
Everyone on the panel agreed that workforce development is a major issue - attracting and fostering the next generation while retaining today's workers. Pelton noted that we're starting to see some regional jets parked because of airline workforce shortages.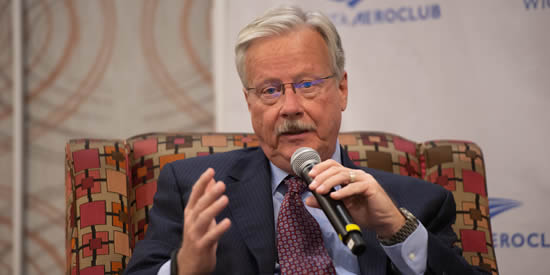 Jack Pelton, EAA president and CEO | Photo courtesy of Visual Media Group.
Haines noted that flight training schools are struggling to get enough instructors and training planes. But everyone is aware of the issue and knows something must be done. Funds are becoming available for corrective action. Programs are being put in place. They are designed to encourage not just pilots, but technicians and engineers. Some schools that train A&P mechanics, said Pelton, are seeing 100 percent placement due to the high demand.
The upside to the looming pilot shortage, said Bunce, is that "compensation is finally going up to the levels they needed to be. It's a great time to get involved in the industry."
Derks echoed that saying, "We have a new story to tell." Because shops are so busy, rates are starting to increase. "We have to stop apologizing for our costs to make aircraft airworthy."
The days of hiring someone with three-to-five years of avionics experience are past, she said. Through apprentice programs and mentorship, she said, "You have to grow your own."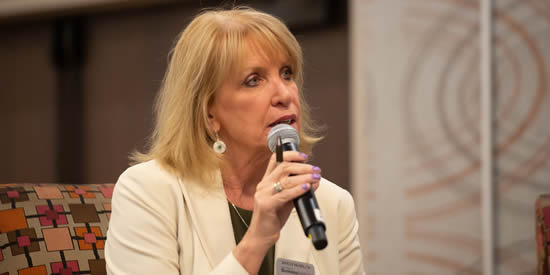 Moderator Molly McMillin | Photo courtesy of Visual Media Group.
Fostering a Love for Aviation
McMillin pulled a recent "Open Cockpit" column for Sport Aviation written by Pelton, urging people to get involved with vintage aircraft. She read: "We don't really own old airplanes; we just get to take care of them for a while if we're lucky."
Pelton also wrote, "As all of us work to inspire the next generation of aviators, we need to do our best to make sure that at least some of them grow up with a love for the classics. The airplanes deserve to keep flying long after we're gone." Amen.
Meet George Jetson
"The future has been clear since The Jetsons aired in the early '60s," said Bolen. "Flying cars are coming."
Small, personal air vehicles, or roadable aircraft offer point-to-point transportation, delivering both air and ground transportation. And they will integrate into the air space safely and much faster than we think, Bunce said.
"There's too much money invested and too much need for this innovation not to happen," said Pelton.
Bunce pointed out the change in name Fort Worth-based Bell Helicopter made in early 2018, dropping "helicopter" from its name to signify its new focus on emerging technologies. "The new logo is a dragonfly."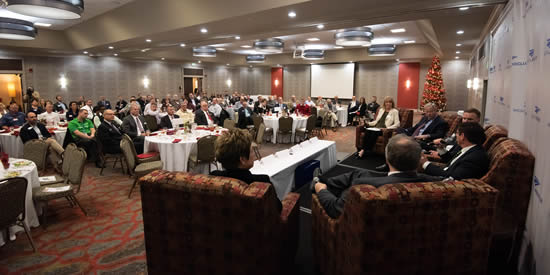 Full room and panel | Photo courtesy of Visual Media Group.
Panelists talked about the coming of autonomous vehicles. Getting these new aircraft certified will happen, but "I'm very concerned about the operating standards," said Bunce. He said they're wresting with the FAA right now on developing standards for the pilot or operator, "whatever we call it."
These aircraft will have lots of redundancy, but if the computer fails, the aircraft won't be flyable. Some form of basic license for this new deconstructed pilot may be what is needed.
Regulators tasked with keeping the public safe have not been quick to hand over the cockpit to computers. These discussions ought to make 2019 lively.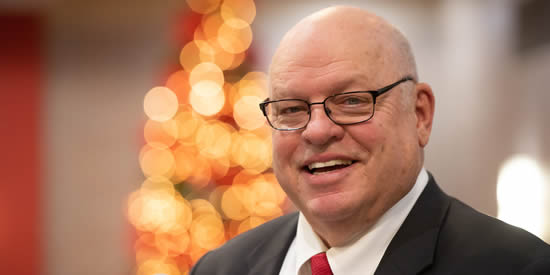 Wichita Aero Club Dave Franson ended a strong year of speakers with a dynamo on-air summit | Photo courtesy of Visual Media Group.

BlueSky Business Aviation News | 13th December 2018 | Issue #490