| | |
| --- | --- |
| | BART International founder Fernand Francois reflects on a long publishing career |
---
Since I was a young boy I was fascinated by aircraft. The owner of a castle near my parents' house regularly made aerobatic flights in an SV4 Stampe biplane over our garden.
After attending the Académie des Beaux Arts in Brussels, and rewarded with a commercial artist's diploma, I embarked on a career in marketing and was lucky to swiftly set up my own advertising company in Belgium. In 1969 I combined my salary and a loan from the bank and started private flying lessons at general aviation airfield Grimbergen EBGB in Belgium.
Private aviation was in its infancy then and flying clubs and pilot schools were struggling to survive. That's when I came up with the idea to launch a two-colour newsletter called Avianews. The print edition would be funded by the advertising from the flying schools, but I also succeeded in rallying support from local aviation related businesses - the early FBOs, small aircraft maintenance shops, etc. Around the same time, May 1973, I was fortunate to buy my first aircraft.
After a few months, Avianews evolved into Avianews International, a full colour magazine with two editions, published in English and French, covering air transport, military aviation, and defence and space technology. I was publisher and editor. It sold at news-stands and libraries in France and Belgium. Budgets were abundant back them and aviation publishing flourished until the end of the Cold War (1991) and the fall of the Berlin Wall. But then aviation magazines in France and Europe including Switzerland's long standing monthly Interavia, a monthly bible since 1946, shut down. I sold Avianews to a Brussels printer who never paid me and went bankrupt after his first issue! I was left with no money - but at least I kept solvent.
Ever the optimist, I promptly went out and ordered business cards: "Fernand Francois - Aviation Consultant". I got my first consulting project with help from Abelag Aviation at Brussels Airport.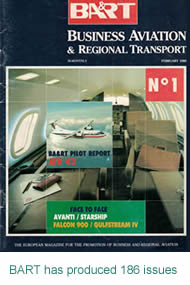 The assignment was for the European Commission's TACIS (Technical Assistance to the CIS countries) programme and it entailed making a study on the development of Business Aviation in Russia, mainly in the Moscow area. I hired four consultants who knew about business aviation to help and we embarked on a six-month project, travelling extensively around Russia. We visited airports, interviewing airport management, the Ministry of Transport of the Russian Federation and other Russian Aeronautical entities: Aeroflot, Ilyushin, Tupolev Aviation Corp and many others. The money earned from that lucrative assignment helped me create BART International.
It was initially named to cover activities in Business Aviation and Regional Transport (a nod to the regional/commuter airline industry which was doing rather well with a plethora of manufacturers entering the space.) The first issue of the magazine appeared in February 1989 to much acclaim from the business aviation OEMs.
When I presented the magazine to Cessna in Wichita, they suggested: "Why regional transport too? Why not focus on business aviation - it is going to be very significant. I concurred. But would to do with the R and the T? That was quickly solved. Recognising business aviation is a business tool I evolved the title to Business Aviation Real Tool!
Invitation to lead EBAA
During a conversation with Guy Viselé, a Board Member of the then fledgling EBAA, at the Farnborough Air Show, Guy confided that EBAA would be soon without a Head. CEO, Frank McFarlane was getting ready for retirement and the Association was floundering - it urgently needed more members. You should take on the role, he implored. Back in Brussels he put my name forward as successor and I was duly accepted by the Board of Governors.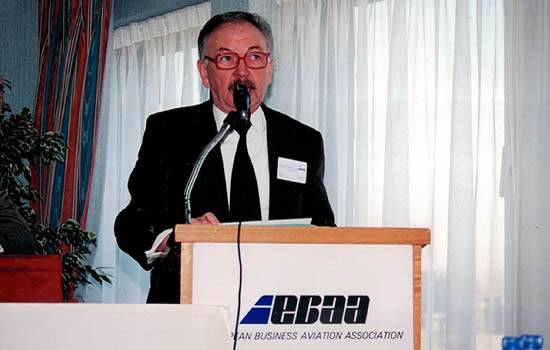 Fernand was CEO of EBAA from 1992 to 2004.
I tackled the limited membership issue by mirroring the example of the USA's NBAA and recommended we hold a Convention. It was to be called the EBAA Convention (the forerunner to EBACE.) The first EBAA Convention was held in a Brussels hotel and attracted 500 participants from the US, Canada and France.
With the approval of the Board, the EBAA Convention became an annual event. It was gaining in stature and after a few successful years I recommended it be moved to the Chateau du Lac in Genval. Professionally organized with high-ranking speakers from the European Union attending, and becoming informed about business aviation, I invited NBAA's President Jack Olcott to join the line up. After that we discussed the EBAA Convention should be a co-event, alongside NBAA.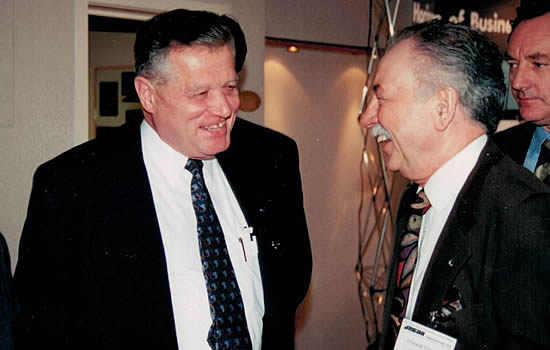 EBAA President Francois Chavatte (left) with, then, CEO Fernand Francois.
I relayed this conversation to the EBAA Board. Then followed several, long heated discussions, with many of the Board fearing it would be the end of EBAA if we joined up with the Americans!! However, EBAA's newly appointed Chairman, Brian Humphries (who was head of Shell's Global Flight Operations) was strongly supportive and, with some legal help from Shell, to ensure EBAA would not be wiped out if it all went wrong(!) and after several transatlantic flights, 'EBACE' was formed in the USA - as a limited liability company.
I refocused on BART then, leaving EBAA in good hands and happy to have been instrumental in transforming it into a successful organization with a now significant and growing membership.
BART's success was a direct result of the airline industry focusing on volumes and its emphasis on the low cost / economy form of travel. Business aviation was also helped enormously by the tragedy that was 9/11 in 2001. Just as with the onset of COVID-19 today, the only way to get home, was by private, charter aircraft.
After five decades of publishing, I will finish publishing BART at the end of this year. I do believe, however, there is a future for specialist aviation magazines. They will continue to exist as long as their publishers invest in the best writers and companies that subscribe and read their stories and insight recognize the partnership should be a two-way street. A successful relationship is one where a company both shares it news and views and allocates spend in advertising to support talented journalism.
I would like to thank our amazing editors and contributors who have supported BART over the decades. Without them we would not have had such a successful journey. Aviation is demanding and to have longevity in the industry and keep current you have to keep evolving, engage the time and invest in good writers. I have met some incredible people in the industry whose support has been so generous. A special thank you must go to Jet Aviation and Pilatus, who have been advertisers since issue No 1. They have not missed a single issue.
Being a total aviation person, it won't surprise anyone to learn that I met my dear wife Kathy Ann at an airport terminal at Calgary Airport in Canada - in September 2004. I was visiting my son flying to Dallas and she was just off an assignment with Greyhound. We have been together ever since. I am very grateful to her for maintaining a close and harmonious relationship with your terrific industry. Thank you for taking BART to your hearts and making it the success it has been for 30 years.
BART's latest issue is published this month and is devoted to Humanitarian support and how business aviation has rallied.