---
Airlink spearheads airlift for Ebola outbreak in Liberia
Medical protective gear bound for workers on frontline of epidemic
Airlink, the 24/7 disaster relief organization that links pre-vetted NGO's with airlines, has secured a charter jet - with funding donated by Sarah and Ross Perot, Jr. - to fly emergency medical aid from five of the nonprofit organizations in their partner network to Monrovia, Liberia.
ATX Air Services, LLC, a subsidiary of the Hillwood Development - a Perot company - provided the 737 charter to transport critically needed medical protective equipment such as masks, gowns, gloves and other medical supplies from their home base at Alliance Airport, Ft. Worth, Texas to Monrovia, Liberia, with an interim stop at New York's JFK airport to load additional aid.
Tuesday's flight (August 26th) from JFK carried a 30,000 pound payload manned by two volunteer crews, flying back-to-back and rotating to keep rested.
---
---
JetCharters.com cites increase in traffic, improving market conditions
JetCharters.com, the worldwide air charter marketplace, realized a significant increase for its business in the first and second quarters of 2014, with 61% more visitors and trip requests through its website.
These numbers are in line with industry wide gains, including nearly 5% increases in total deliveries and billings in the general aviation sector (according to GAMA).
Business jet shipments are also up and along with information reported by additional agencies that monitor sales and use, this leads analysts to believe that the industry could be preparing for more of an upswing. read more
---
---
A new twist on Tankering
New FuelerLinx tankering calculator offers Operators fuel cost savings.
The most pressing question facing any flight department is often: How can they save money on fuel?
Could tankering fuel be the answer? FuelerLinx CEO Kevin Moller thinks his company has the answer. "Because fuel represents 70 percent of a business aircraft's operating cost, FuelerLinx's new tankering calculator technology can immediately support an improved bottom line."
"The concept of tankering has long been in the aviation handbook," said Moller, "But, the ability to achieve the greatest cost savings--that is, to have the ability to save money by tankering each time you plan a trip - has never existed until now." read more
---
---
Spirit Aeronautics takes aircraft service to the next level
Spirit Aeronautics, a trade name of Spirit Avionics Ltd, based in Columbus, Ohio has announced a new level in AOG and on-site service capabilities.
"We are a customer centric business and know that customers don't always have the choice of bringing us the aircraft or have time to wait for service," said Tony Bailey, President of Spirit Aeronautics. "We created our Aircraft-on-Demand Service Program to better enhance our current customer service experience."
The Spirit Aeronautics Aircraft-on-Demand Service is a program where customers who cannot move the aircraft for physical or financial reasons can receive Avionics, Interior and Maintenance service at their location, when they need it. Spirit Aeronautics can dispatch a team via new company vans or fly teams to the customer's airport on the company aircraft. In addition, Spirit Aeronautics can provide AOG parts support anywhere in the world through an extensive network and supplier authorizations.
"Aircraft-on-Demand is a program where we will bring our capabilities and talent to a customer's hangar or facility for AOG and routine service", continues Bailey. "As we often say - Sometimes all it takes is SPIRIT!"
---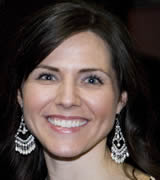 Upward Bound: Aviation Marketplace Projections
Ashley Bowen Cook, vice president, at Greteman Group, a marketing communications agency based in Wichita, the Air Capital.
he best thing you can tell a roomful of aviation professionals is that the
industry they love and depend on is poised for growth.
And that's the welcome news respected aviation forecaster Rolland Vincent conveyed as Wichita Aero Club's August keynote speaker. Vincent analyzed where we are, how we got here and where we're going.
Route to Recovery
You can't have sales without buyers. And business aviation prospects have been wary. While cash rich, understandably, they have been risk averse. We can thank the worst downturn since the Great Depression for that.
Other factors contribute, too. Vincent pointed out the cratered light market, evaporated backlogs, spiked pre-owned aircraft inventory, and plummeted pre-owned transactional prices. Stricter credit requirements in aircraft lending have played a role, as well. "Maybe it's not as friendly a conversation as it used to be," Vincent said.
Other market-suppressing realities include demand and supply forces that remain out of line, lower flight utilization and idled aircraft, an oversupply of light and midsize jets, new competition and product life cycles. But you can't keep this industry down. Vincent's data tells a positive, future-forward story. Things are about to get better. And to keep improving.
Last year was the second-highest dollar delivery in aviation history. Demand between now and 2023 is projected to result in roughly 9,400 business jet deliveries valued at $267 billion. And the urgency begins now. A recent survey by Rolland Vincent Associates identified 10 percent of 8,000 operators - that's 800, people - likely to buy a jet within the next 12 months. "Why are you still here?" Vincent teased. "Lunch is over. Get out and sell."
What Will Buyers Buy? read more
---
---
Signature acquires three new Caribbean locations in Antigua, St. Kitts and Nevis
Signature Flight Support has acquired the assets of FBO 2000 including its locations at V.C. Bird Antigua International Airport (ANU), R. Bradshaw International Airport (SKB) in St. Kitts and Vance W. Amory International Airport in Nevis (NEV).
Signature Antigua (ANU) will offer customers an executive terminal, lounge, offices and two hangars. Signature Antigua's significant aircraft to yacht service makes the island a highly desirable luxury leisure travel destination. Signature Nevis (NEV) and St. Kitts (SKB) offer passenger handling and coordination services to expedite clearance through customs and immigration to and from the destinations. Both locations have offices on their respective airports and provide services to assist customers and crew while they are visiting the islands. read more
---
---
NBAA calls for action on third-class medical exemption
NBAA recently joined with other aviation stakeholders in calling for the U.S. Department of Transportation (DOT) to expedite its review of an FAA notice of proposed rulemaking to reform the third-class medical certification requirement.
The letter noted that by removing the medical requirement for some noncommercial flight operations, and allowing pilots with a current driver's license to fly after self-assessing their airworthiness - a process already required of pilots before every flight - the exemption would not only maintain the current high level of safety, but also substantially cut costs to pilots and the FAA.
"The FAA's medical certification system has evolved into an onerous and costly one which has questionable, if any, benefit to general aviation pilots," read the Aug. 15 letter, which was sent to DOT Secretary Anthony Foxx and signed by leaders of seven aviation groups, including NBAA President and CEO Ed Bolen. "Conservative estimates indicate that medical certification reform would result in an annual savings of more than $1m to the FAA. read more
---
---
Marshall chooses Abbotsford, BC as North American office hub
Marshall Aerospace Canada, part of Marshall Aerospace and Defence Group, has increased its in-country presence and strengthened its commitment to focused new business development in North America, with the purchase of a 4,343 ft2 building at Abbotsford Airport in British Columbia.
The building will become Marshall's Canadian head office, out of which the company's comprehensive Air, Land and Sea engineering and maintenance capabilities will operate to serve current and future military and civil contracts and customers. The Abbotsford base will also act as Marshall's base for strategic growth in Canada and North America.
Marshall first established a presence in Canada in 2006 and has traditionally shared office space with partners in the sector to maximize work on collaborative contracts. read more
---
---
FAA Helicopter Repair Station Certification for Trine Aerospace
Trine Aerospace & Defense has received certification from the Federal Aviation Administration that enables it to perform maintenance, repair and overhaul services on rotor-wing aircraft. The helicopter certification comes on the heels of Trine receiving FAA Part 145 approval as a certified repair station in April.
Based at the Colorado Springs (KCOS) airport, the company offers engineering, manufacturing, and aircraft modification on general aviation, commercial, and special mission aircraft. It also specializes in avionics installation and repair. In January the company opened a 30,000 square foot commercial modification facility at the Colorado Springs (KCOS) airport and has four helicopter mechanics, a helicopter inspector and a helicopter test pilot. read more
---