---
JetSmarter's inaugural Dubai-London JetShuttle flight takes off December 1st
Leading private jet company, JetSmarter, has announced the launch of the first-ever shared, private JetShuttle flight that will connect Europe and the Middle East, offering JetSmarter members single-seat trips on flights between Dubai and London.
For the first-time in the private aviation industry, travelers will be able to reserve seats on direct, scheduled flights between three continents – North America, Europe and the Middle East.
The Dubai to London JetShuttle flight, which will carry passengers on Legacy 650 aircraft, departs from Dubai on Thursdays at 8:30PM, and flights from London to Dubai will be on Fridays at 12PM.
This new route will offer significant time savings for passengers traveling to and from each city, by arriving and leaving from Luton and Al Maktoum International airports, and avoiding the hassles of traveling through the two largest commercial airports in the world.
---
---
Endorsement from Canada as 328 Support Services GmbH wins TCCA approved status
328 Support Services GmbH (328) has been endorsed by Canada's Transport Canada Civil Aviation (TCCA) with the award of broad maintenance approval.
It allows 328 to undertake modifications and repairs on any Canadian registered Dornier 328 aircraft, from avionic installations to complete aircraft conversions. The approval also enables 328 to distribute new, used or repaired Dornier 328 spare parts to Canada. With the new approval in place, spare parts and appliances will be delivered to Canadian customers under an EASA Form 1 "triple release" which means that they will be certified under EASA, FAA and TCCA regulations.
Commenting on the achievement, Dave Jackson, Managing Director of 328 said: "This is another great recognition for 328 Support Services and we are very pleased to receive the approval from Canada where we foresee an increasing business opportunities with strong business partners and we will bring more efficiency in the process of support Pratt & Whitney Canada whose operates a Dornier 328-300."
---
---
EBASCON 2017 examines reduced costs and enhanced safety opportunities delivered by Interoperability and clustered flight operations
Aircraft operators agree that the interoperability of flight crews and clustered flight operations sounds amazing, almost too good to be true.
However closer examination reveals there are several advantages, mainly cost savings and safety enhancements.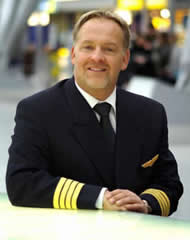 EBASCON Founder and Chairman, Christian Beckert
EBASCON 2017 will be the key forum to discuss and review the implications of interoperability, the event takes place from the 14th to 15th February 2017 in Munich.
---
---

Paula Kraft, founder and President of Atlanta, GA-based Tastefully Yours Catering.
What's in a name?
ave you ever placed a catering request only to find that the food or item you
received was not what you thought it was going to be?
Perhaps it occurred with a very common item . . . a biscuit for example? Is it a fluffy piece of bread lathered in melted butter and honey (it is here in the south); it's also something served for breakfast stuffed with eggs, cheese and meat. Or is it a cracker, thin and crisp, or maybe a cookie served with tea? I think that we in the aviation world experience more mistaken names than most other professions, don't you? But, is a wrench a wrench? (I guess you can see, I am not mechanical).
Food names vary from continent to continent, country to country and even within a country by region. When you place your catering request, you have a picture in your head of what you're expecting - but without a crystal ball in front of me, I sometimes have to guess what you're thinking and what you want delivered. It might be a very ordinary item. Something typical of the region or part of the world you're in. I know it's confusing, and we, your catering sources, should be able to figure out what you want by where you're flying in from, or by your accent or by the spelling of your name.
A catering request is an art form - I've said this before - and is something that just can't be thrown together without thought and planning. And most of all, an understanding of what various foods will be called in various places around the globe.
---
---
WTCE returns with brand new features for 2017
The World Travel Catering & Onboard Services Expo (WTCE) returns to Hamburg from 4 – 6 April with a raft of new features to celebrate its sixth year.
As part of Passenger Experience Week 2017, the world-class exhibition will bring together professionals from across the globe with attendees hailing from countries including United Arab Emirates, Hong Kong, France, China, Germany and the UK. WTCE offers a unique platform for onboard specialists from across the air, rail and the wider travel industry to meet over 300 industry suppliers, source the latest products, attend a wide range of networking events and view demonstrations from world-class chefs.
Cohesively hosting three events over four days, with the Passenger Experience Conference taking place the day before WTCE and Aircraft Interiors Expo (AIX), the Week will welcome those at the forefront of the global passenger experience industry, who are responsible for shaping its future.
---
---
SR Technics opens new training center in Abu Dhabi
SR Technics, a world leading MRO service provider, has opened a new world-class training center in Masdar City, Abu Dhabi offering flexible, comprehensive training solutions to supplement the company's existing training facilities in Zurich, Switzerland.
Since 2008 SR Technics has provided the employees of various regional airlines in the Middle East with basic maintenance training and type rating training, both of which help to obtain a valid Aircraft Maintenance License (AML) and to release aircraft back into service. The new modern training center is designed to serve regional and international clients, strengthening the existing relationships and building new ones.
Stephan Wiegelmann, Head of Training Services at SR Technics, is pleased with the new training center: "We were looking for a state-of-the-art facility, which we found in Masdar City. We chose this location because it is a progressive hub for educational, technical and scientific institutions, providing a modern environment for learning. Masdar City is also close to the Abu Dhabi Airport, so we are able to perform practical training on aircraft." read more
---
---
Air Service Basel receives IS-BAH Certification
Air Service Basel has received Stage 1 Certification under IBAC's International Standard for Business Aviation Handling (IS-BAH), for its FBO at the EuroAirport Basel.
Being a joint program between the International Business Aviation Council (IBAC) and the National Air Transport Association (NATA), the IS-BAH Standard incorporates industry best practices in safety management and risk mitigation, related to all aspects of the FBO operations. read more
---
How dangerous are birdstrikes? A pilot explains read
---
'Rank doesn't engender trust. It has to be earned' RAF Red Arrows Squadron Leader David Montenegro. read
---
Wheels Up takes off to Havana read
---
Rice. A food staple for nearly half the world population.
Paula Kraft, founder and President of Atlanta, GA-based Tastefully Yours Catering. read
---
More stories in our
Industry Supplements
see tabs at top of page.