---
Harrods Aviation sees a marked increase in large cabin movements
Harrods Aviation, the leading London-based FBO chain, has seen a sharp increase in large cabin movements.
Movements have risen over 20% in this category since 2013 and in the last 12 months, the company has handled over 250, B747 type aircraft including many visits from Heads of State.
"With this increase in large cabin movements has come some exciting challenges for us all at Harrods Aviation," commented Managing Director of Harrods Aviation, Paul Norton.
"Many of these large cabin aircraft are utilised by dignitaries, Heads of State and royal families. Our customer facing staff have learnt to adapt the way in which they work to meet the individual needs of these flights."
---
---
GKN Aerospace patents new ice accretion test device
GKN Aerospace has patents approved covering a new 'benchtop' ice adhesion test device which incorporates apparatus to simulate icing conditions and then determine ice adhesion in situ.
This will enable swifter, less costly assessment of promising ice phobic coatings and other ice protection technologies.
Russ Dunn, Senior Vice President, Engineering & Technology, GKN Aerospace, explains: "Effective ice protection, including icephobic coatings, is a key focus for aerospace, as preventing ice accretion is a critical safety requirement.
"Efficient ice protection systems lower power consumption, improving aircraft efficiency and lowering emissions. To date, the most comprehensive method for measuring and understanding the icephobic nature of a surface is through icing tests using a wind tunnel. These require large, dedicated wind tunnel facilities, making them costly and impractical for regular use as a development tool, or for batch quality control in production."
---
---
SaxonAir enhances diversity in its fleet with the addition of two new aircraft
Private aircraft operator and aviation service provider SaxonAir has continued its expansion and diversity following the addition of a further two new generation aircraft to its fleet.
The Embraer Phenom 300 light jet is being operated from London Stansted Airport. The aircraft has won the award for 'the most delivered business jet' for the past two years and with seating up to nine passengers in its spacious light cabin, the aircraft is ideal for inter-European flights and can be suited for either business or leisure use.
The second addition is a 2016 model AW109SP GrandNew Helicopter that will be operated from North London.
---
---
Paula Kraft, founder and President of Atlanta, GA-based Tastefully Yours Catering.
Casseroles and Aircraft: Friend or Foe?
ikepedia defines a casserole as originating from the French word for
saucepan.
It is described as 'a large, deep dish used both in the oven and as a serving vessel. The word is also used for the food cooked and served in such a vessel, with the cookware itself called a casserole dish or casserole pan'.
Casseroles in the United States or continental Europe usually consist of pieces of meat or fish, various chopped vegetables, a starchy binder such as flour, potato, pasta or rice or other grain, and, often, a crunchy or cheesy topping.
The moisture needed for reheating is partially released from the meat and vegetables during the cooking process, but additional liquids can be added to the casserole ingredients in the form of gravies, of stock, of wine, of beer or vegetable juice when all the ingredients are assembled.
Casseroles are usually cooked slowly in the oven, often uncovered. They are so encompassing in the food world. You can have a casserole for virtually every course of a meal.
Let's begin with the positive side of serving casseroles on board the aircraft.
---
---
Acropolis Aviation enhances in-flight cuisine with award-winning cookery school
Acropolis Aviation, one of Europe's leading luxury air charter companies, is taking its in-flight dining experience for clients to an even higher level.
It recently sent its cabin crew to Ireland's award-winning cookery school, Tannery, in the seaside town of Dungarvan, County Waterford, run by accomplished chef, Paul Flynn.
Here they spent two days' intensive training at the super-modern school and, in a challenging MasterChef-style environment, learned the secrets and skills a top restaurant calls on to present delicious meals and how they can be adapted in flight.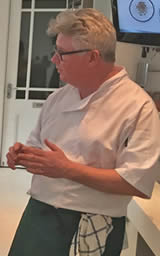 Paul Flynn, owner and lead chef of Tannery restaurant and cookery school,
The course covered the art of plate and platter presentation, food pairing, oven management and seasonal menu ideas.
---
---
FlyPlymouth welcomes Heathrow runway announcement
Commences campaign to secure access for Plymouth.
FlyPlymouth has welcomed the Government's decision to approve the building of a new runway at London's Heathrow Airport, saying it will galvanise its efforts to commence work to ensure that a re-opened Plymouth Airport would get to share in the benefits of new runway capacity at Heathrow.
"Both the Transport Secretary and the Prime Minister have stated that this decision is the best for the whole of the UK and will improve links for regional airports," commented FlyPlymouth Chief Executive Raoul Witherall.
"This is very good news for Plymouth's future connectivity and is to be warmly welcomed. The rationale for safeguarding and re-opening Plymouth's city airport has become stronger as a result of today's announcement."
---
The 2016 BACA Excellence Awards took place at London Guildhall on Wednesday 19th October, a capacity audience saw the presentation of a series of six Awards reflecting the best of the air charter industry.
Robert Walters (right), London Biggin Hill's Business Development Director & BACA Council member presents Embraer Executive Jet's Peter Griffiths, SVP Sales for Europe, CIS & Africa with the BACA Aircraft Manufacturer Award for 2016.
---
'Refreshing enthusiasm' for imminent SET green light attracts capacity audience at Oxford conference read
---
NBAA calls for FAA to step up efforts to halt 'strangulation strategy' for SMO read
---
That Riviera Touch. Paula Kraft, founder and President of Atlanta, GA-based Tastefully Yours Catering, visits the first European Air Ops Conference in Cannes. read
---
Helitech International makes a successful return to Amsterdam read
---
ATR foresees demand for 750 new turboprops for Asia-Pacific region over the next 20 years read
---
More stories in our
Industry Supplements
see tabs at top of page.
---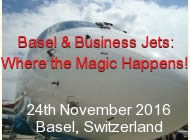 ---