---
Hartzell to supply lightweight 5-blade props for Piaggio Avanti EVO
Hartzell Propeller Inc. will supply new advanced lightweight propellers to Piaggio Aero Industries for its third generation twin-engine Avanti EVO, the world's fastest production turboprop.
For the EVO, Hartzell worked with Piaggio to develop new highly swept wide-chord aluminum alloy propellers that in conjunction with changes to the nacelle and engine exhaust geometry combine to reduce external noise by 68 percent or five dB(A). Passenger comfort is also improved by a cabin noise reduction of 20 percent, or one dB(A), attributable in large measure to Hartzell's five-blade scimitar design.
Piaggio Aero Chief Executive Officer Carlo Logli said, "The tremendous noise reduction in the Avanti EVO is a huge engineering achievement for the Piaggio and Hartzell development team. As Piaggio Aero embarks on a new chapter in its growth and future development, thanks to the support of our shareholders, the new aircraft is a perfect starting point that underpins future growth." read more
---
---
FlightSafety's third G650 simulator receives FAA Level D Qualification
FlightSafety International's third Gulfstream G650 aircraft simulator has been qualified to Level D by the United States Federal Aviation Administration.
The simulator is located at FlightSafety's Learning Center in Long Beach, California. The first two Gulfstream G650 simulators are in service at FlightSafety's Learning Center in Savannah, Georgia.
"The FAA Level D qualification of FlightSafety's third Gulfstream G650 simulator clearly demonstrates our ability to design and manufacture the highest quality simulators," said David Davenport, Senior Vice President. "Installing this new Gulfstream G650 simulator in Long Beach is another example of FlightSafety's commitment to provide our Customers with the scheduling and training location flexibility they require."
"FlightSafety's Gulfstream G650 training programs, flight simulators, and other advanced technology devices are developed in conjunction with Gulfstream Aerospace," said Steve Gross, Vice President, Sales. "This ensures they reflect the exact operating characteristics of the aircraft and provide pilots, maintenance technicians, and flight attendants with current and relevant information." read more
---
---
Delta Private Jets' Ownership Assist Program spurs fleet growth as jet card sales increase
Ownership Assist, the innovative aircraft management program that Delta Private Jets (DPJ) introduced in early June, has been well received by customers.
DPJ has signed agreements for five new aircraft that are entering the fleet through this program, two of which have just been added to the managed fleet.
"Ownership Assist is another example of the unique and innovative solutions that we offer our customers," said John Daly, Chief Operating Officer of Delta Private Jets. "All of our Aircraft Management Programs allow owners to tailor their own flying and aircraft access with the ability to offset costs of ownership through revenue generation and cost savings."
The program is designed for owners who require only occasional use of their aircraft, and are looking for guaranteed monthly revenue to cover financing costs.
Through Ownership Assist and the company's other programs, Delta Private Jets continues to add a variety of popular, late-model aircraft to its fleet. The most recent additions are a Citation CJ2 and Citation CJ3, a Falcon 2000 and a Gulfstream GIV-SP. read more
---
---
Lear 60 now FAA-certified with new Raisbeck aft fuselage locker
Raisbeck Engineering received full FAA certification for its Lear 60 Aft Fuselage Locker on July 18th, 2014. It will now be available for purchase and installation at all Raisbeck Authorized Dealer locations that work with Lear 60 owners and operators.
Final certification flights were completed in March of this year and all data was submitted to the FAA, who granted single-airplane STC in May, followed now by the final STC. The first Lear 60 to receive the Aft Fuselage Locker has been in full operation on trips across the U.S. and Europe. read more
---
---
Nextant becomes first aviation company to join the Remanufacturing Industries Council
Nextant Aerospace, maker of the Nextant 400XTi - the world's only remanufactured business jet - and the forthcoming Nextant G90XT turboprop, has joined the Remanufacturing Industries Council (RIC).
The Remanufacturing Industries Council defines remanufacturing as: "a comprehensive and rigorous industrial process by which a previously sold, worn, or non-functional product or component is returned to a 'like-new' or 'better-than-new' condition and warranted in performance level and quality."
Remanufacturing is not the same as recycling nor is it a modification program. It produces products at a fraction of new-build cost and with significantly lower raw material consumption and greenhouse emissions.
Nextant Founder and Chairman Kenn Ricci foresaw the potential benefits of remanufacturing when he established the company in 2007. His vision is now reality as Nextant produces aircraft that offer superior performance, a quieter and more spacious cabin and world-class reliability. read more
---
---
Embraer delivers 25th Phenom 300 to NetJets
Embraer has delivered the 25th Phenom 300 to NetJets. A Purchase Agreement for 50 Phenom 300s, plus 75 options, was signed in October 2010. The total value of the deal may exceed USD 1bn, if all options are exercised.
"We are absolutely delighted with this delivery to NetJets, just over a year after the first Phenom 300 joined their fleet," said Marco Túlio Pellegrini, President & CEO, Embraer Executive Jets. "The Phenom 300 was the most delivered business aircraft in 2013, and we are thrilled with its success among NetJets' customers."
The aircraft (delivered on Friday, 25th) is the 200th Phenom 300 manufactured by the Company. The delivery ceremony took place at the Embraer assembly facility in Melbourne, Florida, where this aircraft was produced. Over 70 Phenom jets have been assembled in Melbourne, and delivered primarily to customers in the North American market. The Phenom 300 is in service in over 25 countries. read more
---
---
WAI scholarships exceed half-million dollars
Women in Aviation, International scholarships for 2015 now number 91 with the value of $510k.
"The variety of scholarships - and the variety of donors is huge," says WAI President Dr. Peggy Chabrian. "From major aerospace corporations and airlines to WAI chapters and WAI members, we offer scholarships ranging from type ratings to initial training, for academic work, dispatcher training, maintenance training to money to finance a mid-life career change to aviation. The only universal qualification is that you must be a current WAI member to apply." read more, Plus: WAI significantly expands its youth outreach
---
---
Ulan-Ude Aviation Plant produces landmark 850th helicopter
Russian Helicopters, a subsidiary of Oboronprom, part of State Corporation Rostec, has announced that Ulan-Ude Aviation Plant (UUAP) has produced its 850th Mi-171-series helicopter. The landmark aircraft was a Mi-171A1 built for Brazilian commercial operator Atlas Taxi Aereo.
The Mi-171A1 is one of the latest commercial models of the world-famous Mi-8/17 series. UUAP began deliveries to Atlas Taxi Aereo after the Brazilian company obtained type certification for the Mi-171A1 from the country's Aircraft Register in 2005. Used by Brazilian national oil company Petrobas to support drilling operations in Brazil's rainforests, the Mi-171A1 boasts outstanding reliability and efficiency. For example, during a year of intense operations one helicopter flew over 1,000 hours, carrying approximately 600 tonnes of cargo, primarily drilling equipment, on an external sling.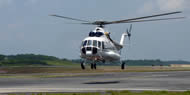 Mi-171A1
In August 2013, UUAP produced its 750th Mi-8AMT/Mi-171 helicopter – a Mi-8AMTSh for the Russian Defence Ministry. This model (export designation Mi-171Sh), was designed by the Mil Moscow Helicopter Plant, another Russian Helicopters company, following comprehensive analysis of Russian-built helicopters' experience of operating in "hot spots". Russian designers have created a helicopter with high operational efficiency, capable of flying a wide range of missions in real combat conditions. read more
---
---
TWC Aviation, Inc. has received the prestigious ARGUS Platinum safety rating.
The Platinum rating is the highest level within the ARGUS safety rating system. Only five percent of U.S. based jet charter operators are Platinum rated. Onsite third-party auditors scrutinized every aspect of TWC Aviation's operations, including maintenance and pilot training, recordkeeping, safety management system (SMS), and emergency response procedures. The audit results verified that TWC conforms to the world's most uncompromising standards for aviation safety.
"TWC has been recognized for exemplary safety and security throughout our sixteen years of operation," said Edward Frank, Chief Executive Officer of TWC Aviation. "Along with our recent Wyvern Wingman renewal and NBAA Commercial Business Flying Safety Award, this ARGUS Platinum safety rating affirms the company's unparalleled commitment to client safety." www.twcaviation.com
---
Embraer delivered 29 executive (22 light / 7 large) jets and 29 commercial jets in the second quarter of 2014.
The Company's firm order backlog ended 2Q14 at US$ 18.1bn. As a result of aircraft deliveries, coupled with revenues from the Company's Defense & Security business, 2Q14 Revenues were US$ 1,761.3m , for year-over-year growth of 13.1%. Year-to-date (YTD) Revenues in the first six months of 2014 were US$ 3,003.6m, representing year-over-year growth of 13.6%.