---
Sequester-targeted ATC towers to remain open until end of September
The U.S. Department of Transportation has confirmed that 149 contract air traffic control towers - slated for closure next month - will now remain open throughout the federal government's 2013 fiscal year, which ends Sept. 30.
"We applaud the decision by Transportation Secretary Ray LaHood to leave these towers open," said NBAA President and CEO, Ed Bolen. "As we have long said, these tower facilities are integral components in the world's safest, largest, most diverse and most efficient aviation system. Without the threat of imminent closure, DOT and the Federal Aviation Administration will now have the additional time necessary to develop a thorough and informed plan to manage the agency's priorities under mandatory budget sequestration."
The FAA's announcement comes following significant concerns about the tower closures that have been raised by elected officials at all levels of government. read more
---
---
Learjet 75 debut at EBACE
Just one year after launching the Learjet 70 and Learjet 75 aircraft, Bombardier is returning to EBACE next week with the first production Learjet 75.
"This year's edition of EBACE will once again highlight Bombardier's leadership in the industry," said Steve Ridolfi, President, Bombardier Business Aircraft. "The debut of the Learjet 75 aircraft marks another exciting year of innovation and we look forward to delivering the first aircraft in the fourth quarter of this year."
Alongside the debutante, Bombardier will be presenting three additional class-leading jets on the static: The Challenger 300, Challenger 605 and Global 6000.
Also: Embraer debuts Legacy 500 prototype
---
---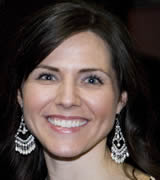 EBACE, ABACE - How About VBACE?
As in: Virtual Business Aviation Convention and Exposition.
Ashley Bowen Cook, vice president, at Greteman Group, a marketing communications agency based in Wichita, the Air Capital.
hile there's still no substitute for actually being there, these days
you can pull a lot of value out of a major aviation gathering even if you can't make the show.
Take next week's EBACE in Geneva, Switzerland - May 21-23. Between Twitter and the show's excellent mobile app, you can follow the events from anywhere. Add online news from the aviation trade press and the only thing you'll miss is one-on-one contact.
Even if you don't usually use Twitter, you should consider following #EBACE13. Show organizers will use the feed to announce events as they're coming up, and many of the 12,000-plus in attendance will check in with observations, insights, announcements and nuggets of information that may not be available anywhere else.
A Show On Your Phone read more
---
---
Flying Colours Corp. granted AS9100 Certificate and continues to expand with move into corporate shuttle conversions
Flying Colours Corp. the Canadian headquartered completions, refurbishment and maintenance specialist has achieved the coveted AS9100 certificate for quality and safety management for the aerospace industry.
The certificate was awarded in March 2013 and reflects the significant investment Flying Colours Corp. has made in developing the LEAN technology production and manufacturing systems at their facilities in Ontario and at JetCorp Technical Services in St Louis.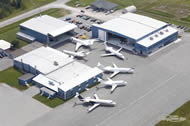 Flying Colours Corp Peterborough facility expanding in all directions
The use of LEAN technology was implemented by Flying Colours Corp. two years ago and has successfully improved efficiency as well as enhancing production times and quality standards. This was one of the principal factors in Bombardier appointing Flying Colours Corp. as a Preferred Completion Centre. read more
---
---
---
Lights to stay on at BGR despite potential FAA cuts
Bangor International Airport (BGR), Maine, has installed pilot - controlled runway lights in anticipation of further operating restrictions by the Federal Aviation Administration.
Although newly revised legislation has halted the furloughing of air traffic controllers resulting from sequestration (see: Sequester-targeted ATC towers to remain open until end of September), there is still some uncertainty about further budget cuts by the U.S. government.
The US $20,000 system at BGR allows pilots of approaching aircraft to illuminate the runway lights if the tower is left unmanned, simply by switching on their cockpit microphone.
"As America's gateway airport for Europe on the Great Circle route, with 24/7 customs and border protection, to say nothing of our role as a TSA-designated diversion point of entry for emergencies, we've chosen to pre-empt matters to maintain normal operations," says BGR airport director Tony Caruso.
---
---
---
Crownair selected as factory authorized Gold Service Center for Eclipse twin-engine jets
Eclipse Aerospace, Inc. (EAI) has named Crownair Aviation, San Diego, CA., as an EAI authorized Gold Service Center for both the Eclipse 500 and Eclipse 550 jets.
Under this agreement, Crownair Aviation will provide maintenance, inspections, parts and warranty support, as well as AOG services for Eclipse Jet aircraft.
"Eclipse Aerospace is pleased to welcome Crownair to our network of Authorized Service Centers. Based on their experience and track record, we are confident the Crownair team will uphold our vision of providing exceptional customer service for owners and operators of the growing fleet of Eclipse Jets," said Cary Winter, SVP Manufacturing, Engineering, and Technical Operations for EAI.
One of the many unique features of the Eclipse Jet is the remote diagnostics capability made possible by the advanced integration of the aircraft. Eclipse Service Centers can diagnose aircraft maintenance events remotely and dispatch the correct parts and instructions for repair to be carried out by most A&P mechanics around the world. read more
---
---
Gulfstream 650 sprints between Shanghai and Newark
The Gulfstream G650 recently demonstrated its exceptional capabilities, flying more than 6,855 nautical miles (12,695 km) in 13 hours and 32 minutes to set a city-pair speed record between Shanghai and Newark, N.J.
The ultra-large-cabin, ultra-long-range G650 took off from Shanghai Hongqiao International Airport at 10:38 p.m. local time on April 18 with five passengers and four crew members on board. Once airborne, Air Traffic Control restrictions required that the aircraft spend the first hour traveling below 31,000 feet (9,500 m) before climbing to its normal cruising altitude of 41,000 to 51,000 feet (12,500-15,500 m).
The aircraft cruised at speeds between Mach 0.85 and 0.88, resulting in an average speed of 506 knots from takeoff to touchdown.
The aircraft arrived at Newark Liberty International Airport 13 hours and 32 minutes later at 12:10 a.m. local time. Due to limited visibility conditions near the airport, the crew used Gulfstream's Enhanced Vision System (EVS II), a standard feature on the G650, during approach and landing.
Gulfstream aircraft equipped with EVS have operational credit to proceed from decision height to a 100-foot altitude when using EVS for low-visibility approaches. read more
---
---
Fokker Services brings EFB iPad solution to EBACE
Fokker Services and DynamicSource AB have jointly developed an iOS Application to run FORTRAN Take-Off and Landing SCAP modules on the Apple iPad.
The app allows an operator to make the performance calculations shortly before take-off and therefore allows the opportunity to incorporate last minute changes with respect to aircraft loading and runway conditions.
OEM take-off and landing performance calculation modules comply with the IATA SCAP interface specification and are written in FORTRAN - a programming language originating from the 1960's. Normally FORTRAN programs do not run on iPad, but the software engineers from DynamicSource AB managed to make this possible. The OEM supplied SCAP module is combined with a calling program and an airport/obstacle database. Via a user-friendly Graphical User Interface (GUI) relevant data like aircraft-weight, wind, and runway condition are fed into the app. Within seconds the take-off and landing data like V1, V2 and flap setting are presented on the screen of the iPad. read more
---
---
---
Amendment to law protects Oklahoma private airstrip owners
The Recreational Aviation Foundation (RAF) has announced that Oklahoma's Governor Mary Fallin (R) signed HB 1009 on May 13, adding aviation and fly-ins to the state's recreational use statute covering non-public lands.
The legislation, sponsored by Representative Mike Brown (D) sailed through both houses with no opposing votes. The new legislation essentially protects private airstrip owners throughout Oklahoma from litigation from non-commercial aviation activity on their non-public-use airports. Donations collected at fly-ins on private land are specifically addressed and do not constitute commercial status. The added protection takes effect November 1, 2013.
Guiding the bill through the process was Yasmina Platt of Aircraft Owners and Pilots Association (AOPA) with support from RAF Arkansas liaison Dave Myrick and Oklahoma RAF member Kirby Crowe. The RAF is a non-profit organization whose mission is to create and preserve backcountry aviation destinations nationwide. read more
---