---
March 2015 flight activity springs forward, rises 2.6% over March 2014
March business aviation flight activity followed its usual path and posted a significant increase from February to finish the month up a substantial 14.1%.
All operational categories recorded double digit monthly gains, with Part 91 posting the largest increase, up 14.9% from February. The Fractional & Part 135 markets also posted impressive gains of 14.3% & 12.9% respectively.
Looking at the aircraft categories, flight activity was led by small cabin aircraft which posted an increase of 15.8%. Turboprop flight activity followed with a monthly increase of 15.1%. Mid-size & large cabin aircraft posted gains of 13.5% & 10.7%. All individual segments posted double digit gains for the month with the exception of Part 91 large cabin aircraft, which posted an increase of 9.7%. Part 91 turboprops recorded the largest monthly gain for an individual segment, up 17.7%. read more
---
---
Flying Colours begins work on first three Sparkle Roll CRJ200 aircraft
Plus: New Singapore interiors facility opens
Just six months after the joint venture announcement between China-based Sparkle Roll Technik Co. Ltd. (SRT) and Flying Colours Corp. the North American MRO, completion and refurbishment specialist, three of the eight B-registered CRJ-200 aircraft conversions are already in situ at Flying Colours' Peterborough headquarters in Canada, with the work schedule well under way.
The initial trio of aircraft is being reconfigured from regional jet layout to a mixed class shuttle format. Each cabin has been divided into three separate areas. The aft section incorporates a 20-seat economy section, the middle section four business class seats in two double club layout, whilst the front cabin will feature a three seat divan alongside a double club business class seat configuration. In addition an aft lavatory will be fitted whilst a small forward galley will be installed. read more
---
---
Strong first quarter for Delta Private Jets
Delta Private Jets (DPJ) reports a strong first quarter of 2015. The company saw a record month for charter sales in March. Year over year, Jet Card sales are up 40 percent and charter sales are up 46 percent for the period. The continued growth follows a record 2014 in terms of revenue and fleet growth for the company.
"Our managed aircraft fleet has grown significantly in the past year," said John Daly, Chief Operating Officer. "We continue to add late-model aircraft with state-of-the-art technology and amenities most requested by customers. Our fleet has grown to over 60 aircraft, and we expect to add five or six more in the next two months."
Much of DPJ's fleet growth is due to its innovative Ownership Assist program. The program is designed for owners who require only occasional use of their aircraft, and are looking for guaranteed monthly revenue to cover financing costs. Ownership Assist is available for Cessna Citation CJ3, Citation Excel or XLS, Citation X, Citation Sovereign and Embraer Legacy 600 aircraft. Since introducing Ownership Assist in mid-2014, 14 aircraft have joined DPJ's fleet through the program. read more
---
---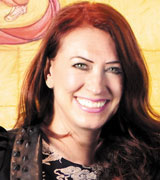 Air Capital Gets a Second Chance at a First Impression
Sonia Greteman, president and creative director, at Greteman Group, a marketing communications agency based in Wichita, the Air Capital.
ichita's Air Capital status draws travelers from around the world.
They jet here to meet with people at Spirit AeroSystems, Textron Aviation, Bombardier Learjet, the National Center for Aviation Research, aviation suppliers and more. In a month or so, visitors flying into the former Mid-Continent Airport will find quite a different welcome. Wichita just got a $200m front door.
Can't wait to check it out? Let me be your guide.
Even if you don't see the signs that now read Wichita Dwight D. Eisenhower National Airport, you'll experience a difference. You disembark through glass, climate-controlled jetways. As you enter the gate, you step into a gleaming new, 275,000-square-foot terminal.
Skylights infuse the soaring interior with one of my favorite things - natural light. The ceiling looks like a giant aircraft interior. Terrazzo floors with nickel-inlaid patterns inspired by contrails create an intuitive traffic flow. Supergraphics along the concourse highlight some of the 100-plus key models of the approximately 300,000 aircraft built here, from single-seat biplanes to transatlantic jumbo jets.
Exiting the large, open security area and its public-art, cloud-like ceiling treatment, you find aviation touches throughout the terminal.
---
---
FAA proposes $1.54m civil penalty against Air Methods Corp
The U.S. Department of Transportation's Federal Aviation Administration proposes a $1.54m civil penalty against Air Methods Corp. of Englewood, Colo., for allegedly operating Eurocopter EC-130 helicopters on dozens of flights when they were not in compliance with Federal Aviation Regulations.
The FAA alleges Air Methods operated two helicopters on 70 passenger-carrying flights for compensation or hire, over water and beyond power-off gliding distance from shore, when they lacked required helicopter flotation devices and flotation gear for each occupant. The agency alleges the company operated another helicopter on 13 such flights when it lacked required flotation gear for each occupant. All 83 flights by the emergency medical transport company occurred around Pensacola, Fla.
"The flying public correctly expects that American operators will place safety above all else," said U.S. Secretary of Transportation Anthony Foxx. "We will hold operators accountable when they fail to meet those expectations."
"Operators must follow every regulation and take every precaution to ensure the safety of all those on board," said FAA Administrator Michael Huerta. "Flying without required safety equipment is indefensible."
---
---
Civil Aviation University of China orders FlightSafety King Air C90GTX simulator
FlightSafety International has received an order from the Civil Aviation University of China (CAUC) to design and manufacture a King Air C90GTX full flight simulator. The simulator will be an integral part of the university's ab initio pilot training programs.
"We are pleased to have been selected by the Civil Aviation University of China to design and manufacture a King Air C90GTX full flight simulator," said John Van Maren, Vice President, Simulation. "Supporting the need for well-trained pilots in China with our advanced-technology full flight simulators and expertise in training, shows our commitment and ability to meet the specific needs of China's growing aviation industry."
The simulator is expected to receive Level D qualification from the Civil Aviation Administration of China following delivery at first quarter of 2016. It will be installed in Chaoyang City, Liaoning Province of the People's Republic of China. read more
---
---
West Star integrates carbon fiber into aircraft paint and interiors
While carbon fiber has been readily used in the structure of aircraft for some time, it's now making its way into the interior and exterior of the aircraft.
A prime example of this relatively new trend is West Star Aviation, who has successfully integrated carbon fiber into five custom aircraft refurbishment and/or exterior paint projects since 2014. When integrated into the cabin, carbon fiber covers surfaces where wood veneer is traditionally used, such as countertops, side ledges, tables or bulkheads. In addition, West Star has completed an exterior paint project with carbon fiber aircraft paint.
"The use of carbon fiber in cabin design has continued to grow in popularity as it gives a unique, hi-tech, and more modern look than the traditional veneer options," said Debi Cunningham, Vice President Marketing & Interior Design, West Star Aviation. "Carbon fiber can be finished in high gloss the same as a veneer," she continued. "This gives the cabin a more modern look but retains the high-gloss, high-quality look that customers prefer."
West Star continues to increase their expertise in integrating carbon fiber materials into today's aircraft interiors and has currently delivered carbon fiber projects on Gulfstream 200, Challenger 604, and Falcon 900 aircraft.
---
---
World Fuel Services are expanding their capabilities in the Asia Pacific market to include 24/7 trip support operations staff that is fluent in local languages.
The company currently maintains two operational offices in Singapore and Mumbai, and a Shanghai office is scheduled to open in mid-2015. In addition to the Asia-based trip support operations staff that is fluent in Chinese, WFS expects to have local staff on call 24/7 that is fluent in Mandarin, Cantonese, Melayu, Bhasa Indonesian, and Tagalog by July 2015.
"Given the cultural diversity of the Asia Pacific market and the 24/7 nature of our business, investing in these expanded capabilities ensures that we will be prepared to meet the challenges associated with our long-term goals for the region" said Michael Szczechowski, World Fuel Services' Senior Vice President of Business Aviation Sales.
António Menezes
The board of directors of PrivatAir has announced the appointment of António Menezes to the position of Chief Executive Officer as of April 6th 2015.
After 12 years, Greg Thomas has relinquished that position but will retain the role of Executive Chairman.
António brings a wealth of experience in senior management roles at SATA - the Azorean Government owned carrier based in the Azores and in Lisbon - where he was CTO, CFO and CEO. He was most recently Executive Member of the Board of Directors at Euro Atlantic, a widebody wet-lease specialist with a worldwide customer base.
The shareholders and the board of directors of PrivatAir believe that António will contribute greatly to the next phases of the Company's development in terms of his previous experiences with airline technology solutions, low costs of operation and proactive global sales strategy and implementation.